There so many different types of salt that it can be confusing and overwhelming when choosing which to buy. I had my go-to, but when we moved and it wasn't in our local grocery store, I had to do my research. I wanted to better understand what made each salt different from the other. Here I'm sharing what I learned, my new go-to, and why I think it's the best.
For all things baking and cooking, I use kosher salt. Kosher salt tastes purer and has a nice crystal texture that dissolves well. This means that whether you're marinating meat, baking bread, or salting your pasta water, kosher salt is your best friend. Plus, it tastes a whole heck of a lot better than iodized.
When it comes to kosher salt though, there's a difference even between brands. The two most commonly used kosher salt brands are Diamond Crystal and Morton. But the difference between them is HUGE! Morton is more dense than Diamond, double that of Diamond. That means that 1 teaspoon of Morton kosher salt actually has double that of 1 teaspoon of Diamond kosher salt. If a recipe calls for 1 teaspoon of kosher salt and the recipe maker used Morton, you would add 2 teaspoons of Diamond.
Diamond Crystal is my salt of choice. I find that it dissolves best, evenly distributing better than other kosher salts. This is ideal for baking, but cooking as well. When it comes to salting things, it's so easy to over-salt something. Once you add the slightest bit too much, it's hard to bring a dish back. I have more control of the amount of salt I'm adding when I use Diamond.
And what about that super coarse finishing salt? Finishing salt is just that, salt added to the dish once it is finished. This salt is extra coarse, providing texture as well as flavor. I love to sprinkle finishing salt on my almond date oat bars along with other dishes. I love the little salty crunch it provides. My favorite finishing salt is Maldon sea salt flakes.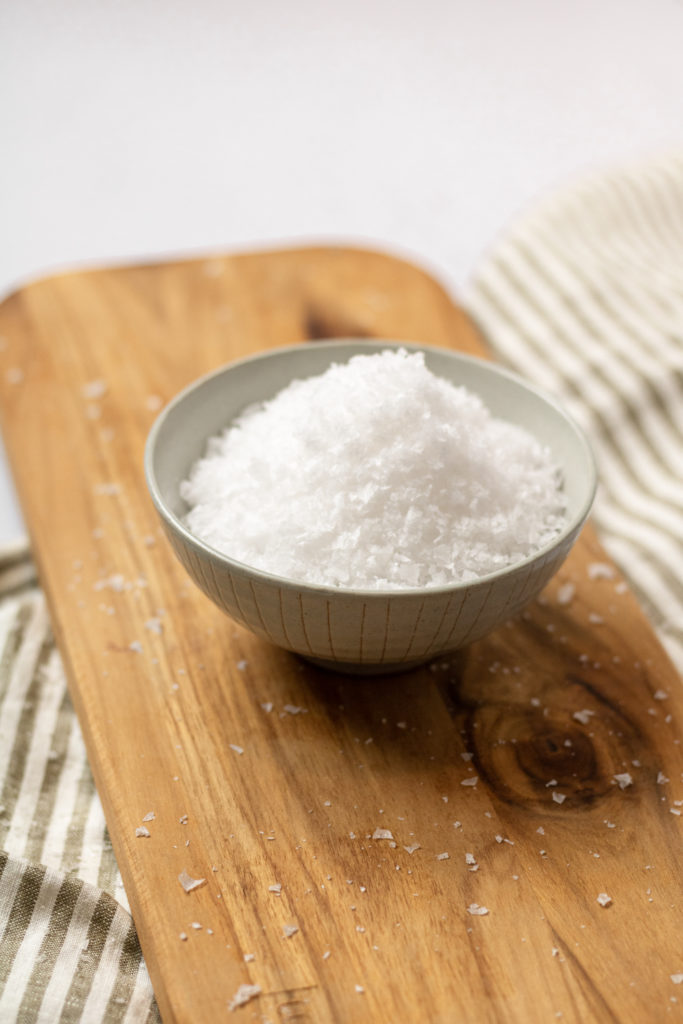 Below are affiliate links to the salts I recommend and what I keep in my kitchen. They are in no way sponsored.
For Diamond Crystal kosher salt, click here.
For Maldon sea salt flakes, click here.