Zeit für Brot. Yes, yes it is.
Zeit für Brot, or Time for Bread, is a staple in Berlin, Germany. When you walk in the door, you're surrounded by tourists and locals anxiously waiting in line. The bakery is full of life. There's chatter among shoppers, local kids running around in their cold-weather gear, and bakers creating their magic. Patrons sit and eat their breakfast as they watch the bustling world outside go by.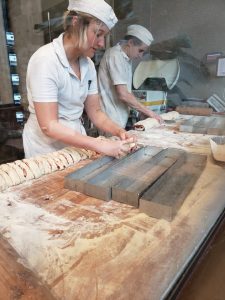 There are several locations throughout the city, but they still stand behind the simple down-to-earth roots that started it all. The bakery focuses on quality, never quantity. This means Zeit für Brot uses the best organic ingredients while still focusing on their carbon footprint and sustainability. And real bakers still bake their loaves of bread and sweet treats. Better yet, you can watch them while you're in the bakery. The bakers are busily working to keep up with the demand, covered in flour, to make the freshest baked goods.  
Zeit für Brot has a bunch of different bread loaf options to choose from, but they're famous for their cinnamon rolls. Now, I've never been the biggest fan of cinnamon rolls because I find them too sweet and overwhelming. But these, these are divine! They are the perfect combination of cinnamon butter goodness.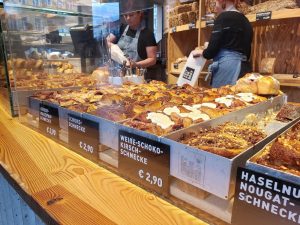 When we got to Zeit für Brot, we were the first pair just outside the door in line. We waited, but it didn't seem long. The buzzing morning energy was invigorating and the warm bakery felt lovely after our walk in the Berlin winter temperatures.  Right as we made it to the counter, a baker put hot-out-of-the-oven cinnamon rolls right in front of us. As we attempted to keep our excitement under control, we ordered two cinnamon rolls. I'm quite proud of ourselves for ordering only two when we wanted one of each.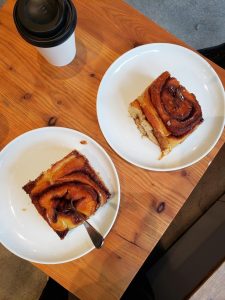 We found a small table by the door as all of the other tables were filled with locals. Like us, they were feeding their sugar fix before heading to work or hoping their kiddos weren't getting more cinnamon roll on their faces than in their faces. As we took our first bites, we instantly knew we made a huge mistake only ordering the two. Our cinnamon rolls melted in our mouths.
We tried an original classic and an apple cinnamon roll, but we can't wait to try the other options they have. I'm dying to try the poppy seed cinnamon roll next time we're in town. Since the cinnamon rolls were so good, we also got a baguette for dinner that night and it was just as fantastic. If you're ever in Berlin, you have to stop in Zeit für Brot. Even if it's simply to curb your sweet tooth.