When thinking of German cuisine, I instantly think of bratwurst, spaetzle, potato pancakes, and delicious Zwetschgenkuchen (German plum cake). We were happy with the thought of eating authentic German food for a month, in fact, I was looking forward to it. But when we arrived in Berlin, we were surrounded by an incredibly diverse culinary scene. We were pleasantly surprised when we had a Vietnamese restaurant down the street, found the most authentic and divine tacos al pastor at Los Trompiras, and ate authentic Turkish food at Mustafa's Gemüse Kebab. One of our most surprising all-time favorite food finds in Berlin though was the hamburger from Burgermeister.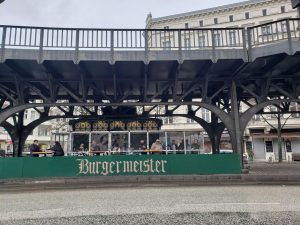 We stumbled upon Burgermeister after exploring the East Side Gallery. We had left the gallery and were heading towards Markethalle Neun for dinner when we saw several people crowded around a small building under the elevated platform. It was raining, again, but that did matter to people. They were all queued waiting to order their food to then stand within the small building to eat it. We both thought that the food must be incredible for these people to be waiting. When we later looked up the reviews, we saw that Burgermeister had over 9,000 reviews and still had over a 4.5-star review. Impressive, very impressive. We knew we had to go back and find out what it was all about. 
We learned that Burgermeister's small container building is actually an old toilet house. The toilet house sits on a central island among very busy streets while below an elevated transit platform. The area is bustling with people. The owner did a lot of convincing before Burgermeister became to creation. After three years of persistence, blood, sweat, and tears, Burgermeister opened. The outside of the building still looks that of a historic toilet house, but the inside has been remodeled and restored to feed hungry Berliners and tourists alike.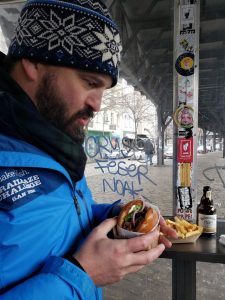 When we visited the East Side Gallery a second time with a friend visiting from back home, we knew we had to try it. Lucky for us, the line wasn't as long as the first time we passed by, but there was still a line. We stood in line waiting our turn to order as we looked over the menu. They keep it simple with a minimal menu of what they do best, hamburgers. There are a few burger varieties, the option to add fries, and local beer to wash it all down. We ordered a hamburger topped with mushrooms, fries, and a beer to share.
We quickly realized that one burger to share was a mistake. Our individual halves went down in an instant. We both looked at each other and said, "This is the best burger I've ever had.". And it still reigns true. Burgermeister is the best burger you'll ever eat, whether you're in Berlin or not.