There aren't many things I'll wait in a long line for, especially when it's really cold and raining. But it was often raining in Berlin when we visited this past February, so you make the best of it. Plus, when you see a line as long as we did for Mustafa's Gemüse Kebab, you wait.
Tim and I were on our way to Curry 36, a spot highly recommended when we saw the extremely long line for a nearby food stand. We continued on our way to try the famous currywurst, ate in the rain, and quickly discovered we aren't currywurst people. With our bellies still hungry and craving something warm, we decided to check out the food stand.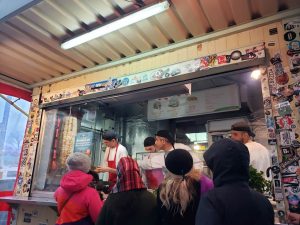 The line wasn't getting any shorter, even though the rain was continuing to come down in sheets. We tried to sneak a peek at what they were serving, but the intoxicating smells already had our mouths watering. So like the crowd of locals and tourists alike, we waited in line for our share of traditional döner kebabs.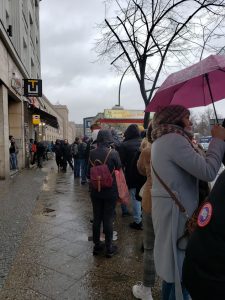 Döner kebabs are named after the traditional rotating roast in Turkey. There is a great deal of influence from Turkey in Berlin due to the number of Turkish immigrants in the city. And with their influence, they brought their cuisine. Döner kebabs are highly seasoned juicy meat-filled rolls topped with hummus and vegetables. The rotating meat is sliced off fresh for each order, keeping the meat juicy, tender, and hot. Perfect for a rainy day.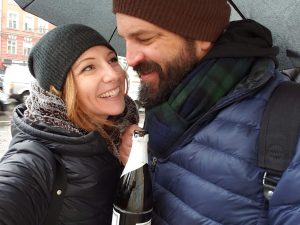 After waiting in line for at least half an hour and our stomachs fully growling at this point, we reached the front of the line and placed our order. We initially thought we would simply order one and share, but once it came time to do so, we each ordered our own. And I'm so glad we did. Our döner kebabs came out piping hot. They were packed with sauteed vegetables, fresh lettuce, cucumbers, tomatoes, hummus, a spicy red sauce, and what seemed like a pound of döner kebab chicken meat.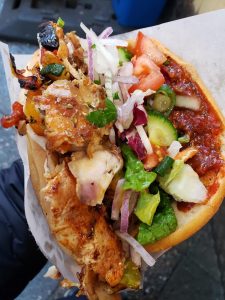 It's almost as if the rain knew it was time for us to eat. The rain kindly stopped, allowing us to eat our döner kebabs out on the sidewalk alongside fellow locals and tourists. The Lebanese bread was tender, the meat melted in our mouths, and the hummus was silky smooth. The cucumbers and lettuce added the needed crunch with each bite. They were messy, we got it all over our hands, and maybe a little on our jackets, but they were absolutely delicious.
If you ever get the chance to eat döner kebabs from Mustafa's Gemüse Kebab in Berlin, do it. No matter how long the line is. It's well worth the wait. And since you've already waited in line, make sure to order your own. You won't want to share this one.