All I wanted when we first got to Germany was to get a taste of authentic German food. For me, that meant malty beer, spätzle, and bratwurst. Lots of bratwursts. 
I have German blood running in my veins from my dad's side of the family. Although we don't know much of the specifics of our family's German history, we know one thing for sure; my dad and I love German food. I truly enjoy a good bratwurst, especially cooked over a fire. The skin of the bratwurst snaps louder and it tastes better when cooked this way. Of course, the best bratwurst also has a good helping of mustard. Pair this mustard topped bratwurst with some crusty bread and it's perfection. 
Although I dreamt of the perfect bratwurst and all the German food my heart could desire, it was oddly more difficult to find an authentic German restaurant. Thankfully, we stumbled upon Nuremberg Wirtshaus while walking back from coffee one morning and then returned that night for dinner.
Nuremberg Wirtshaus is a rustic and cozy authentic German restaurant. It felt homey walking in, warmed by the fire and stove, and perfect for a cold winter day. The restaurant specializes in Franconian cuisine, which is from the Franconia region of Bavaria Germany. This means that they specialize in good beer and delicious meat.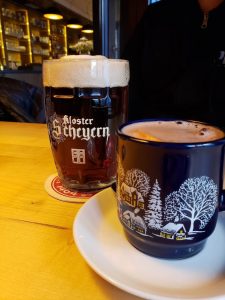 The first time; yes, there were many more times, we were the first ones in the restaurant. We got a large rustic table right by the window. We watched the locals bundled from the cold and wind, swiftly walking past us to get home from a long day at work. Tim quickly ordered a large dark malty beer and I ordered a gluhbier. This was a specialty of theirs, similar to gluhwein. Instead of being made with wine though, their gluhbier is made with dark malty beer. To make it a little more special, several pieces of clove were put in a slice of orange that was then placed on the top of the gluhwein.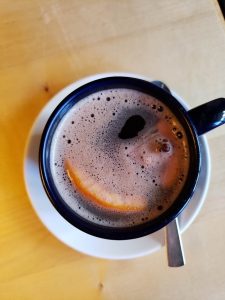 As we casually enjoyed our drinks and continued to thaw out our fingers, we looked over the meat-filled menu. Nuremberg Wirtshaus is known for their meat, and it's no surprise. They have several options to choose from. They also cook a great deal of this meat over a fire-burning grill. The restaurant even has a fire grill in the dining room for a little extra pizazz on busy nights.
We ordered the special of the day, a bratwurst plate and a side of spätzle. This was a lot of food, which is why it became a long joyous feast. We took our time enjoying each bite and oh did we. The bratwurst plate included 2 Nuremberg sausages, 1 snail sausage (a sausage spun around in a circular shape, not actually made from snail), and 1 additional bratwurst. It also includes coleslaw and a german-style potato salad, which traditionally is bound together with vinegar rather than mayonnaise and served warm. Each sausage was a little different in taste and texture, but all were fantastic. Even after ordering this several more times, I still couldn't pick a favorite.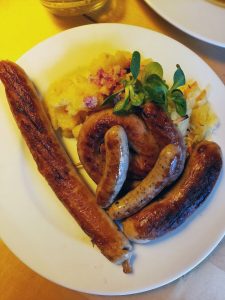 Each time we ordered the special of the day, it was divine. Everything came out hot like it just came off the fire grill. But what I still dream about is the spätzle. The side of spätzle comes as a heaping serving on a large plate, much larger than we expected, and thank goodness it did. It's buttery, soft, melts in your mouth, and is exactly what you want to fight those cold Berlin nights. In fact, we went there one night simply to get a plate of spätzle because I couldn't get warm. My plate of spätzle warmed me right up, from my heart to my bones.