The pandemic has changed the world in so many ways. Traveling has drastically changed. One of the things I miss the most about traveling is the incredible food. Like drool-worthy döner kebabs from a Turkish food truck in Berlin. To help ease my longing for cultural dishes of our travels, we've been making a lot of vegetable shawarma.
Shawarma is thinly sliced meat stacked on each other that roasts as it rotates on a vertical spit. As it roasts for hours the juices drip through each layer of meat. The meat is flavorful and melts in your mouth. Since we've been eating a lot less meat though, I've created this oven-roasted vegetable shawarma.
The main ingredients of this dish are cauliflower and garbanzo beans. Cut the cauliflower into smaller florets, but keep and roast the smaller bits that fall off as well. You can use dried, soaked, then cooked garbanzo beans or rinsed beans from a can. The cauliflower and garbanzo beans are then marinated together for two hours. The marinade is of fresh lemon juice, olive oil, cumin, cayenne, cinnamon, and turmeric. After marinating, add thick slices of onion the mixture, then add to the oven. While in the oven, the veggies and beans roast until the cauliflower and onions begin to brown on the edges.
There are two different ways I like to eat this vegetable shawarma. One of my favorite ways to eat it is by warming up a couple of pieces of naan. I then spread a little greek yogurt on top of the naan. I then add sliced pepperoncinis and thinly sliced red onion. Then on goes the vegetable shawarma. I add a little sliced lettuce and then dig in! I usually serve some warmed Israeli hummus on the side, a side salad, and sliced cucumber.
The other way I love to eat this vegetable shawarma is with breakfast. Since there are usually leftovers, I reheat them before making a breakfast toast. I spread hummus over a slice of toast, add an over-medium egg (some fluffy scramblers would be good too), then top with the reheated leftovers.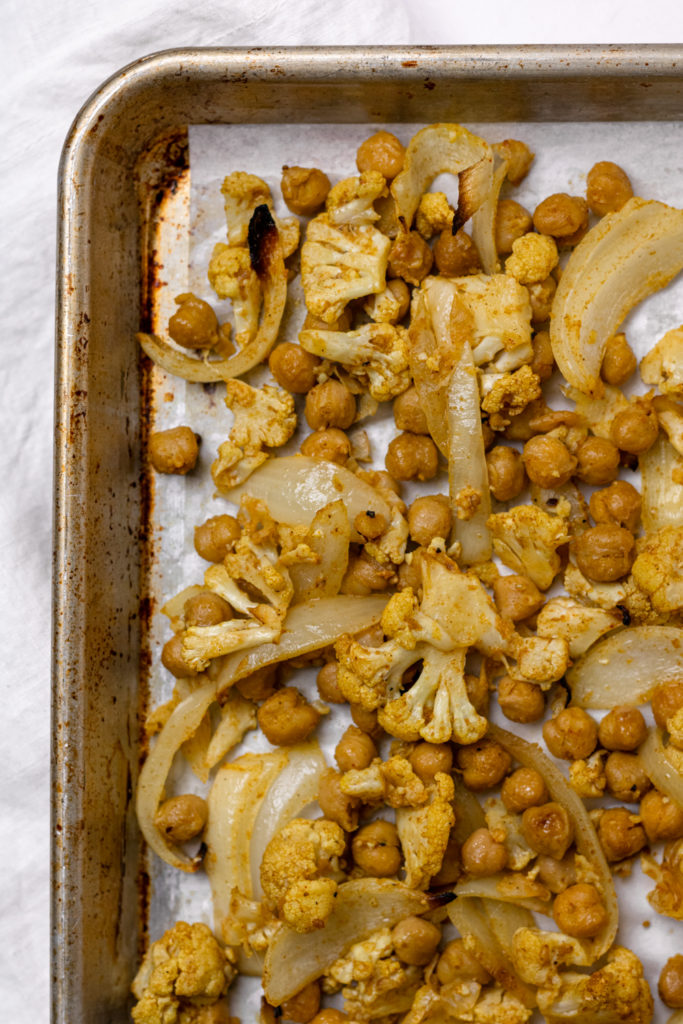 Vegetable Shawarma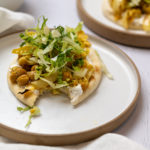 Print This
Ingredients
1/2 cup olive oil

juice of 2 lemons

6 cloves garlic, minced

4 tsp of kosher salt

4 tsp cumin

1 tsp turmeric

1 tsp fresh ground pepper

1/2 tsp cayenne

1/2 tsp cinnamon

1 1/2 cup dried then soaked and cooked garbanzo beans, or 1 1/2 cans (liquid drained and rinsed)

1 1/2 pounds cauliflower, sliced and cut into smaller pieces

1 large yellow onion, halved then cut into thick slices
Instructions
In a large bowl, whisk the olive oil, lemon juice, garlic, and spice together. Set aside. 
Break the cauliflower into different size florets. Add them into the large bowl and coat them with the oil mixture. Add in the garbanzo beans and do the same. Cover the bowl and leave it in the fridge to marinate for two hours.
Once it's done marinating, remove the bowl from the fridge. Preheat the oven to 425.
Slice the onions and mix them into the marinade with the cauliflower and garbanzo beans. Pour the entire mixture onto a large metal baking pan.
Once the oven is preheated, cook the vegetable shawarma for 20-25 minutes or until onions and cauliflower are just beginning to brown in areas. 
I like to serve mine over a slice or two of naan, some greek yogurt, cucumber, pepperoncini, and lettuce.
Enjoy!