I think it's pretty clear that I'm a savory breakfast person. But on the rare occasion that I'm craving something sweet, I want pancakes. They're nostalgic for me; mom's banana pancakes were a Sunday tradition. And now, I'm adding these granola pancakes to the weekend breakfast rotation.
Let's be honest, there's something special about a plate full of pancakes. And these granola pancakes are no different. The simple granola is sprinkled on the pancakes mid-bake and then topped with additional granola and syrup. The nuts and oats of the granola baked into the pancakes add a much-craved crunch.
To start making the pancakes, add the egg, cooled melted butter, and nut milk to a bowl. Whisk the three together. Then, add the remaining ingredients, except for the granola. Whisk them into the liquid until fully combined and a thick batter is made. Preheat a nonstick pan or pancake griddle over medium heat.
Once it's preheated, add quarter-cup fulls of batter into the pan. Allow them to cook for two minutes before sprinkling granola into each pancake. Let the pancakes cook for an additional two minutes before flipping them over. Then, cook the pancakes for two to three minutes. Because of the added sugars, be careful not to burn the granola. Flip the pancake over again and finish cooking until fully cooked. Serve hot with extra granola and warmed maple syrup for the best Sunday stack.
Don't have any homemade granola, you can substitute it with storebought. Or, make griddle pancakes instead. And if you're obsessed with banana pancakes like me, add a mashed banana to the batter!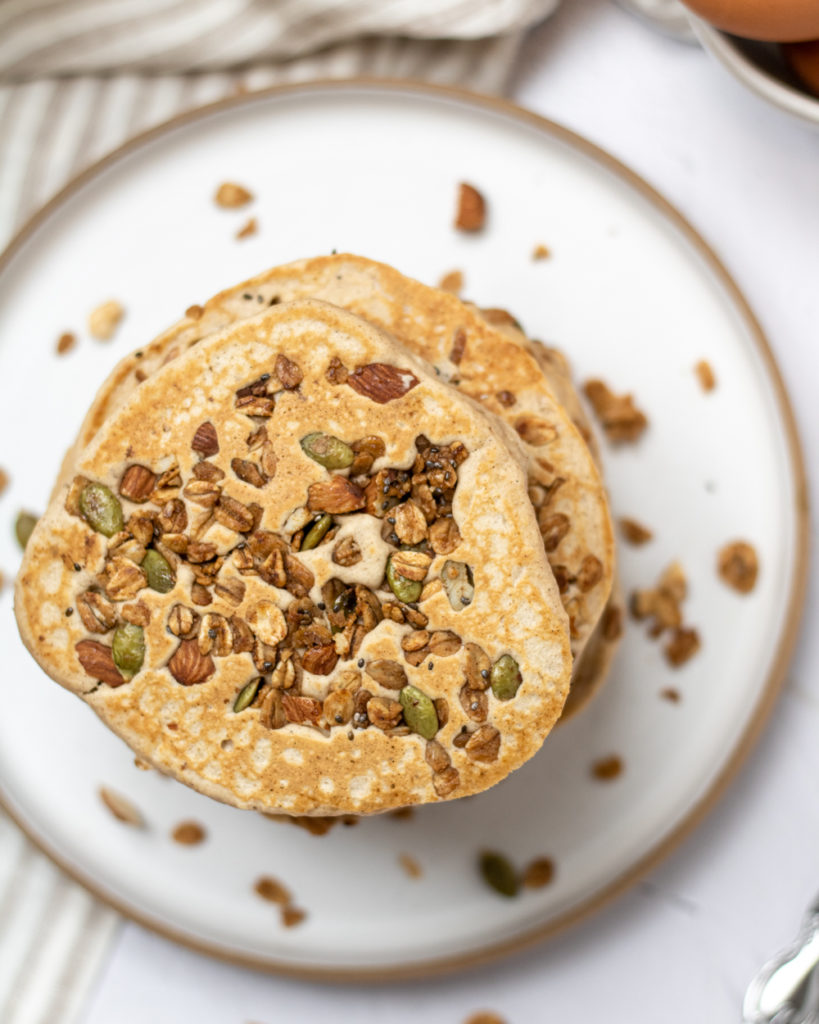 Granola Pancakes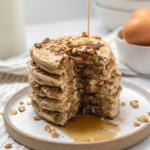 Print This
Ingredients
1 ½ cups all-purpose flour

3 teaspoons baking powder

1/2 tsp salt

2 tbsp light brown sugar

1 tbsp white sugar

1 ¼ cups oat milk (regular milk can also be used)

1 1/2 tsp cinnamon

1/2 tsp vanilla paste or vanilla extract

1 egg

1 tbsp unsalted butter, melted

6 tbsp simple granola (just over a 1/3 cup), additional to garnish

maple syrup to serve
Instructions
Combine all ingredients in a large bowl. Using a whisk, whisk together all of the ingredients except the granola until combined and a thick wet batter develops.
Preheat pan or griddle over medium-low heat.
Scoop 1/4 cup of batter for each pancake onto a preheated pan or griddle. 
Allow the pancakes to cook for two minutes, then sprinkle some of the simple granola on the uncooked batter.  Allow the pancake to cook for an additional 2 minutes. Flip the pancake over and allow it to cook for 2-3 minutes. Make sure the granola doesn't burn. Flip it back over, cook for 2 more minutes. Remove from the pan and set aside. Cook the remaining pancakes the same.
Serve warm with maple syrup and extra granola sprinkled on top.
Enjoy!