If you're looking for heaven in Lisbon, grab yourself some pastéis de nata. In their singular form, they're called pastel de nata, but once you have your first bite, you'll understand why no one ever orders just one and are often called pastéis . Pastéis are sweet decadent egg custard tarts worth traveling to Lisbon for alone.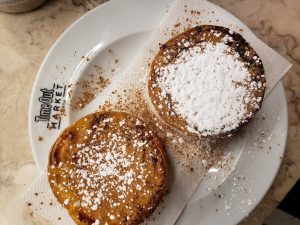 We first heard about pastéis de nata from the show Somebody Feed Phil. The show follows 'Everybody Loves Raymond creator, Phil Rosenthal, around the world as he tries local cuisine. Phil is very animated when describing food and appears to enjoy most things he eats, but he clearly favored pastéis. His enthusiasm and love for Lisbon put the country high on our list of places to visit. So when we had the chance, we flew to Lisbon with pastéis de nata on our minds!
Pastéis are heavenly fresh out of the oven. The light crispy dough crunches as you take your first bite, allowing the velvety egg custard to melt in your mouth. It's unlike any custard I have ever had.  It's smooth, delicate yet complex, and velvety.  It's custard gold.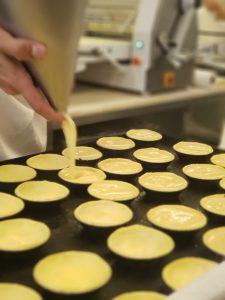 We tried several pastéis de nata from several different bakeries throughout Lisbon, but one surpassed them all. Manteigaria, our favorite, is located in the heart of Lisbon and in the TimeOut Market. With Lisbon's endless hills, stairs, and staying in the older part of town, it took us 25 minutes to walk to the Manteigaria in the center of town. Oh so worth it. And clearly, Manteigaria is no hidden secret either.  No matter what time of day, Manteigaria has a long line out the door. Once inside, the bakery has a long thin counter in which people can watch pastéis de nata being made. Once we got to the counter, we ordered our pastéis de nata and coffee and followed the other tourists to do the same.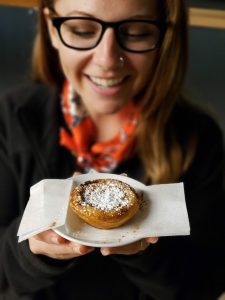 Scattered on the counter were jars filled with powdered sugar and cinnamon to dust on our pastéis. Pastéis are traditionally eaten with a heavier hand on the powdered sugar than cinnamon, but I like mine with a little extra cinnamon. We powdered our pastéis and went for our first bite. Instantly, we both looked up at each other with wide eyes realizing what the hype was about. We finished our pastéis  and got right back in line to order more. We learned our mistake and never ordered less than six at a time.
In our two weeks in Lisbon, we ate pastéis half of those days. And honestly, I could have eaten them daily. I'm usually not a custard fan, but these changed my idea of what custard is. I get a craving for pastéis from time to time. So, I guess we'll have to return to Lisbon someday soon to cure my craving!