Growing up, pancakes were a special treat on Sunday. Mom would make her famous banana pancakes, hot off the griddle with good ol' maple syrup. I still think of Sunday mornings sitting around the kitchen table whenever I get a whiff of maple syrup. I may not often eat pancakes these days, but they still cure a Sunday morning sweet tooth! 
This is exactly why I made pancakes the other morning. Tim and I got up before the sun and headed out for the mountains where it recently snowed. We spent hours exploring the white dusted mountains and hiking through a few feet of snow. On our drive home, our toes were numb and we had a chill in our bones. So naturally, we were craving something warm for breakfast once we got home. Tim's request, pancakes. 
We didn't have any of the instant pancake-mix for a quick fix. So, it was time to come up with a recipe of my own. Like I often do, I began looking online for some inspiration. After reading through some of the highest-rated ones, I began creating my own variation. The best part, it was so easy and I already had everything I needed. 
I added all of the ingredients into a bowl and whisked them together until fully combined. The batter is thick; the perfect texture to make fluffy cake-like pancakes. These can be made on a griddle or cast iron, but I find it easier to make a bunch at once on a griddle. When using the cast iron, make sure it's pre-heated and piping hot before spooning heap fulls of pancake batter on it. This way the pancakes don't stick to to the pan. If you're only making a small batch, the cast iron is worth it. There's something about a pancake on a cast iron that makes it a little more special.  
Cook these pancakes low and slow. I cooked each side on medium-low for about five to eight minutes until golden brown. This batch made about twelve good-sized pancakes which were quickly devoured. Tim topped his pancakes with bourbon-aged maple syrup. I prefer mine with a little almond butter and a light splash of maple syrup or some warmed up holiday cranberry sauce. For a special addition, add one mashed ripened banana to the batter before cooking. 
Griddle Pancakes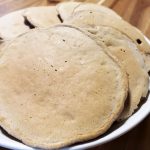 Print This
Ingredients
1 ½ cups all-purpose flour

3 ½ teaspoons baking powder

1 tsp salt

1 tbsp white sugar

1 ¼ cups flaxseed milk (regular milk can also be used)

1 tsp cinnamon

1 egg

1 tbsp unsalted butter, melted
Instructions
Combine all ingredients in a large bowl. Using a whisk, whisk together the ingredients until combined and a thick wet batter develops.
Scoop large spoonfuls of batter onto a preheated cast iron. 
Let each side cook roughly 5 to 8 minutes until golden brown. 
Serve warm with warmed maple syrup.