I feel like it's only natural to love a good margarita if you live in San Diego. I'm talking about the kind of margarita made from fresh lime juice, seasonal produce, and good tequila. The kind of margarita that's made to order, in which precision and love have been added to the cocktail. That's the kind of margaritas I like.
I'm lucky to have grown up surrounded by Mexican culture and food. I've been surrounded by it since a young age. My parents took my brother and I down to Mexico a couple of times as young kids, we've attended countless Mexican-American festivals over the years, and eat more Mexican food than any other type of food. The culture is colorful, communal, passionate, and stacked with tradition. I truly connect with it. 
One reason I connect so deeply with the culture is the importance of family and our connection to our traditions. For us, celebrations and holidays are tied to family tradition. Every year for Cinco de Mayo, we eat too many chips and salsa, good Mexican food, and enjoy some margaritas. Some years we've been out at a restaurant, some years we're home making it all ourselves. Regardless of where we are, the important aspect is that we're celebrating together. Over the last ten years, that's included a margarita in hand.
There are so many varieties of margaritas and styles in which they're served. I've had them on the rocks, with and without salt, and blended. For me, I prefer on the rocks without salt. My mom prefers lots of salt. When made right, there's nothing wrong with any of these varieties.
Included are a few of my favorite margarita recipes. Although I often enjoy these, they taste a little bit better surrounded by family and celebrating time together.
Spicy Infusion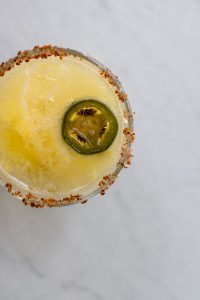 1.75 fl oz.Jalapeno-pineapple infused tequila
0.3 fl oz. Lime juice
0.25 fl oz. Simple Syrup
1 oz Frozen Pineapple
Salt and Tajin for the rim
Ice
Place the rim of a glass into simple syrup, then into a salted tajin. Set aside. Blend all the ingredients in a bullet or blender. Immediately serve in the tajin-rimmed glass and enjoy.
Cool as a Cucumber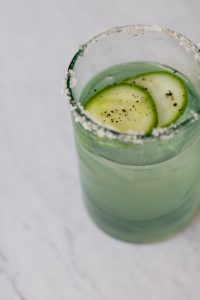 1.5 oz Cucumber infused tequila
0.25 oz Simple Syrup
2 oz Soda Water or Pure La Croix
0.2 oz Lime Juice
2 Cucumber Slices
Pinch of fine-grain pepper
Salt for the rim
Ice
Place the rim of a glass into the simple syrup then into salt. Set aside. Pour tequila, simple syrup, soda water, and lime juice in a shaker. Pour over ice-filled glass. Garnish with the cucumber slices. Sprinkle the top with a pinch of pepper.
Kombucha Margarita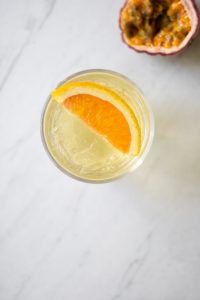 1.5 fl oz. Tequila (I prefer using Shelter Distilling Blue Agave)
4.5 fl oz. Kombucha (citrus-infused, I prefer Health-Ade Passion Fruit-Tangerine)
1 fl oz Soda Water or Pure La Croix
Ice
Add ice to a glass. Pour tequila over ice to chill. Pour your favorite citrus-flavored kombucha over ice and tequila and stir until fully mixed together. Garnish with a slice of fruit.
*** Infusing tequila is a great way to add extra flavor in cocktails. The best part, it's easy! Simply pour some tequila in a container, add your fruit, vegetables, or herbs, and let it do the rest. For subtle flavors, infuse the tequila for a couple of hours. For a stronger more pungent flavor, let the tequila infuse overnight or a couple of days. It's up to you and your preference!