After tasting my homemade ginger turmeric honey syrup, I knew I wanted to add it to everything. Other than adding it to a hot toddy, this is my favorite way to use it. These scones are light, delicately flavored, then deliver a hit of ginger and turmeric.
They remind me of these candied ginger scones I got at the Big Sur Bakery! I quickly ran into the bakery to grab some coffee while Tim was pumping gas and came out with coffee, a cookie, and the gingery scone. The scone was our favorite of the bunch. And well, if you've ever had anything baked from the Big Sur Bakery, you know how good these are.
These light and airy scones begin to rise as you're shaping the dough and continue to grow as their baking. The little dough triangles become large scones you can't wait to devour. But make sure not to overwork the dough. Overworking the dough leads to tough dense scones. So, be gentle with it. Mix the dry and wet ingredients just until they're combined, no more. Continue to be gentle with the dough when kneading and shaping it. To cut the scones into their shape my favorite tool is a dough cutter. It's precise yet also doesn't require working with the dough more than you need to.
I like to brush melted unsalted butter on my scones and then sprinkle a little more dark brown sugar on them. You could also use turbinado sugar instead. Adding the butter in the last 5 minutes of baking gives the ginger turmeric scones that lightly golden look you want on baked treats. When they're hot out of the oven, drizzle additional ginger turmeric honey syrup on each scone for an extra ginger and turmeric boost. Serve warm!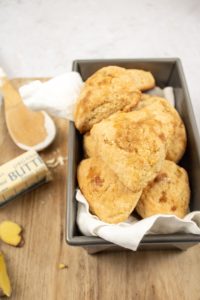 Ginger Turmeric Scone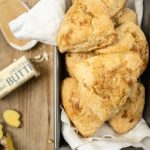 Print This
Ingredients
2 cups all-purpose flour

1/2 cup dark brown sugar, plus additional for topping

1 tbsp baking powder

1/2 tsp salt

1/4 cup unsalted butter, chilled

3/4 cup buttermilk

1 egg

3 tbsp ginger turmeric honey syrup, plus additional for topping

1 tbsp unsalted butter, melted
Instructions
Preheat oven to 375.
In a large bowl, mix together flour, sugar, baking powder, and salt.
Cut the butter in half longways, turn 90 degrees, then half longways again, giving you 4 long sticks. Dice the sticks, giving you 1/4 inch butter squares. Add into the flour mixture. Using your hands, break the butter down while mixing it into the flour until crumbly.
In a separate bowl, whisk together the milk, egg, and ginger turmeric honey syrup.
Remove the dough from the bowl and place it on a lightly floured pastry mat. Gently knead three to four times. Make sure to not overwork.
Divide the dough in half. Gently shape each half into a circle. Cut each circle into six pieces, similar to that of cutting a pie.
Place the 12 pieces onto a parchment-lined baking pan. Bake for 20 minutes.
Using melted butter, gently brush butter on the top of each scone and sprinkle with dark brown sugar. Place the scones back in the oven and cook for an additional 5 minutes or until golden brown.
Once out of the oven, drizzle additional ginger turmeric honey syrup onto each scone.
Serve warm and enjoy!