Smoothies are my go-to lunch of choice when it's hot out. There's just something about sunshine and hot weather that makes me crave the cold creamy texture of a smoothie. Although I enjoy most smoothies, my favorite smoothie is my beet cherry chocolate smoothie.
Now, before you think it's weird to throw beets in a smoothie, try it. The beets add an earthiness to the smoothie that's needed to counter the sweetness of the cherries and pairs well with the chocolate protein. Plus, beets are a great source of fiber, iron, and potassium. Beets are also high in nitrates, which are great for high endurance workouts and overall performance.
Cherries are sweet and contain a fair amount of sugar, so if this is a concern, you can reduce the number of cherries you add to the beet cherry chocolate smoothie. I sometimes do this if I'm craving a more earthy smoothie or don't have as many available, using a third a cup of cherries instead of a half of a cup.
You can use any variety of chocolate protein you prefer for this smoothie, but my favorite brand is Amazing Grass. I like the chocolate flavor it adds to the smoothie and the smooth texture it has. It's always my protein powder of preference. Plus, the rich chocolate protein powder contains additional vegetables and fruits.
I could drink this beet cherry chocolate smoothie every day. In fact, when hot sunny days hit San Diego, I typically do. It's a light yet filling meal to get me through my day with little prep and helps keep me cool. Plus, who doesn't want a sweet chocolate treat in the middle of their day!
Beet & Cherry Chocolate Smoothie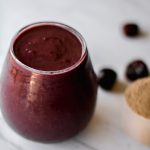 Print This
Ingredients
2 small to medium beets (peeled and steamed)

1/2 cup frozen cherries

1/2 scoop chocolate protein

1 cup flaxseed milk (or desired milk preference)

Handful of ice
Instructions
Place all the ingredients into a blender or bullet and blend until smooth.
Enjoy!