Sometimes you just need dinner to consist of a childhood favorite. Not necessarily cause it's full of veggies, a 'healthy' meal, but because it's good for the soul. One of my favorites, especially on a cold rainy night is chicken tetrazzini.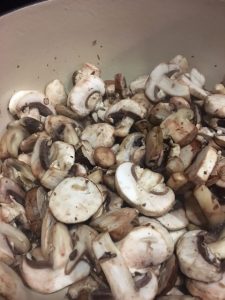 I remember many nights as a child sitting on the counter watching my mom cook up her chicken tetrazzini. I remember the smell of the mushrooms being sauteed, the cream of mushroom and chicken soup, and the endless ounces of cheese. The casserole would come out hot and filled with ooey, gooey cheese. Although I love my mom's 'old school' classic, I could no longer eat it. I needed to find an alternative that had less lactose and fewer preservatives.
It was a cold night in my old stark apartment that I was craving home. I was craving the warmth and the 'hug' from mom's cooking. In my old cramped kitchen with barely enough room for one, I used almost every pan and filled up all the burners on the stove. I sauteed pounds of mushrooms, I sauteed cubed chicken breasts cooked the noodles, and started on the sauce. The filled kitchen began fogging the windows, I was in full cooking discovery mode.
To reduce the lactose, I substituted the milk with lactose-free milk. I removed the cream of mushroom and chicken soup to make my own sauce, creating the 'creamy' base I remember so well. I also used whole wheat pasta noodles for added fiber.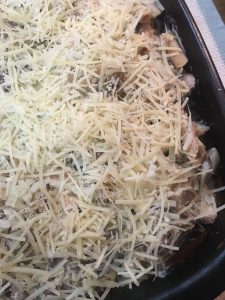 Once all of the components are ready, the mushrooms, chicken, noodles, and sauce are mixed together to make a decadent casserole filling. Then top it with a layer of parmesan and goat cheese, which could also be substituted with dairy-free cheese. After baking the casserole for 30-35 minutes, let it sit on the counter and cool for 5 minutes unless you enjoy the feeling of lava on your tongue.
Since this recipe makes such a large amount, I typically separate it into two smaller baking dishes. I'll bake one for the night and throw the other in the freezer for another night. There's nothing like a meal that reminds you of home when you're soul needs the reminder.
Chicken Tetrazzini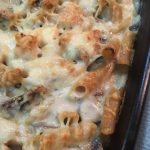 Print This
Ingredients
5 tablespoons of unsalted butter

3 boneless skinless chicken breasts

1 teaspoon of salt, plus some for seasoning

1 teaspoon of pepper, plus some for seasoning

1 1/2 pounds of sliced crimini or baby bella mushrooms

1/2 cup dry white wine (sauvignon blanc would be good one to use)

1/3 cup all-purpose flour

4 cups reduced-fat milk, room temperature (I used a lactose-free variety)

1 cup heavy whipping cream, room temperature

1 cup chicken broth

1/8 to 1/4 teaspoon ground nutmeg

6 ounces whole-wheat rigatoni noodles

1/3 cup shredded goat cheese

1/2 cup of freshly grated parmesan cheese
Instructions
Preheat oven to 450 degrees F.
Cut chicken breasts into bite-size pieces. Melt 1 tablespoon of butter in a skillet over medium-high heat. Add chicken to skillet and reduce to medium heat, season with some salt and pepper. Cook chicken until just cooked through and slightly golden, about 5 minutes per side. Set aside.
Meanwhile, boil a large pot of salted water to a boil. Add the spaghetti and cook until tender, yet slightly el dente. Roughly takes 10 to 12 minutes. Drain. Set aside.
Melt another 1 tablespoon of butter and 1 tablespoon of olive oil in a large skillet over medium-heat. Add mushrooms, season with salt and pepper. Sautee mushrooms until all liquid from the mushrooms evaporates and they are just beginning to golden. Set aside.
In a large pot, melt 3 tablespoons of butter over medium-heat. Add the flour and whisk for 2 minutes. Whisk in the milk, cream, broth, wine, nutmeg, salt, and pepper. Increase the heat to high. Cover and bring to a boil. Once it comes to a boil, remove lid and reduce heat. Let simmer, uncovered, for roughly 10 minutes, whisking often.
Add the chicken, mushrooms, and noodles to the sauce. Toss until sauce covers pasta and the mixture is mixed well.
Transfer pasta mixture to a nonstick baking dish. Top pasta mixture with grated parmesan and goat cheese. Bake, uncovered, until the top is golden brown and sauce bubbles, roughly 30 minutes.