In San Diego, there's a local coffee shop that serves the most incredible chocolate chip coffee cake. 
In my college years, I would frequent the coffee shop. I'd read for school or work on papers while enjoying my slice of coffee cake. One summer, a girlfriend and I went there what felt like all the time. And although we enjoyed the cold brew, we went for the coffee cake. We would pretend we needed iced coffee midday due to the heat, secretly rushing there to grab a slice of their freshly made chocolate coffee cake. 
Nowadays, we're not eating coffee cake every week. Although we'd both like to enjoy this sweet treat with a cup of coffee more often, coffee cake is now a true treat. When that same dear friend told me she was craving our favorite college days treat, just after revealing she was pregnant, I knew I had to get to work creating my own version of chocolate chip coffee cake.
I've made many fruit coffee cakes in the past. This one needed to be different though. My fruit coffee cakes rely on the fruit to provide sweetness, but this recipe needed the addition of sugars. Warning, this is a recipe for the soul, not the figure. In addition to the standard cake ingredients, I also included mascarpone. The mascarpone adds a milky and buttery sweetness to the cake.
While the cake bakes, the smell of cinnamon and chocolate fills the house. You'll know it's fully baked once a cake tester comes out clean and the edges are beginning to slightly brown. And although you'll want to dig in as soon as it's out of the oven, let the cake cool for at least 15 minutes. Slice up in squares and enjoy alongside a fresh cup of coffee or cold brew.
Chocolate Chip Coffee Cake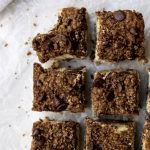 Print This
Ingredients
2 cups all-purpose flour

2 tsp baking powder

1 tsp salt

½ cup mascarpone

¼ cup milk

1 cup sugar

1 stick unsalted butter, room temperature

2 medium to large eggs, room temperature

¾ cup chocolate chips

3 tbsp unsalted butter

½ cup dark brown sugar

½ cup flour

¾ tbsp cinnamon

¼-½ cup chocolate chips
Instructions
Preheat the oven at 350 degrees.
Lightly grease an 8×8 or 9×9 inch square baking dish (I have and used a 8×8).
Whisk together the flour, salt, and baking powder in a bowl and set aside.
In a small bowl, whisk together mascarpone and milk together and set aside.
In a separate large bowl, using a hand mixer, cream together softened butter and sugar. Continuing to use the hand mixer, add the eggs one at a time. Blend together until smooth and creamy.  Add the milk mixture and blend until further incorporated.
With the hand mixer still on, slowly add the flour mixture in small increments at a time. Each time blend the flour into the batter fully before adding more. Once all incorporated, ensure that the batter is smooth and creamy. The dough will be thick.
Using a wooden spoon, stir in the chocolate chips.
Place the dough into the square baking dish and set aside.
In the same bowl used for the flour mixture, add all the topping ingredients except for the chocolate chips. Using a fork or your fingers, break apart the butter and combine ingredients together until crumbly. Sprinkle topping mixture over cake dough. Sprinkle with remaining chocolate chips.
Place in the oven and bake for 45 minutes, if using the 8×8 baking dish. If using the 9×9 baking dish, it may only take 35 minutes to bake.
Let the coffee cake sit and cool for at least 15 minutes before cutting and serving.