Summertime screams grilled hot dogs! But, why not change up the basic ketchup and mustard for something packed with flavor?! These Mexican hot dogs are my current favorite way to eat hot dogs and are full of flavor.
Start by prepping all of your toppings. Make the pico de gallo, crumble the cotija, grill up your summer corn, get out the sauces. Next, cook your hot dogs. I like to cook mine in one of two ways. The first is boiling them for a couple of minutes and then searing them off in a pan. The other is cutting the hot dog in criss-cross cuts and then grilling it. Either way makes for a delicious hot dog! Then, warm your buns.
Now it's time to assemble. Begin by spreading a layer of your favorite spicy sauce to one side of the bun. I'm really into Miller Mustard's Habanero sauce right and is the perfect sauce for these Mexican hot dogs. (Not an ad.) Then, place the hot dog into the bun. Next, top it with a spoonful of pico de gallo, a sprinkle of cotija, and cilantro. Sometimes I add a spoonful of grilled corn and pepperoncini too.
Crack open a cold refreshing beer and enjoy your perfect summer meal!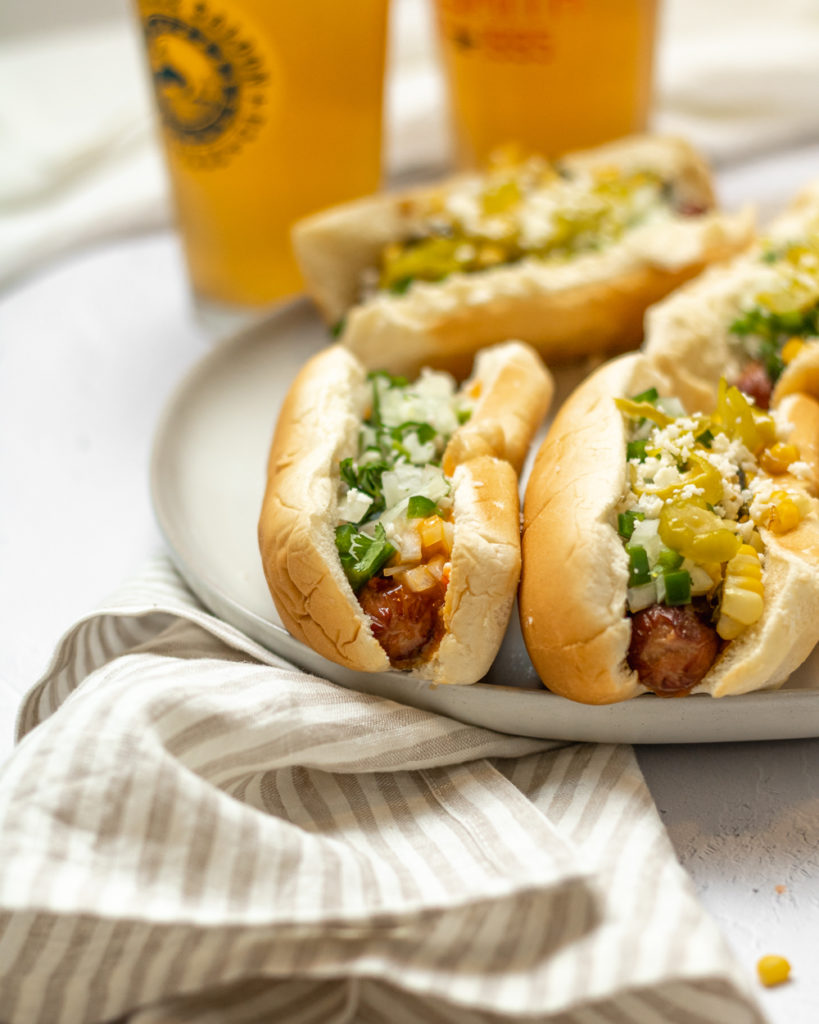 Mexican Hot Dogs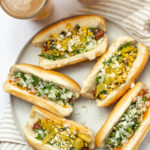 Print This
Ingredients
hot dogs

hot dog buns

habanero Millers Mustard banana pepper sauce

pico de gallo (see below)

cotija cheese

cilantro

grilled corn - optional

sliced jalapenos- optional
Instructions
Start by prepping your toppings. Make your pico de gallo, crumble your cotija, and chop your cilantro. This is also when you'd cook up your summer corn and slice your jalapenos. Set them aside.
Cook your hot dogs. I like to cook mine in one of two ways. The first is to boil the hot dogs for 3-5 minutes and then sear them in a hot pan. The other is to cut criss-cross marks into the hot dog and then grill them. Both ways are delicious! Warm-up your hot dog buns too. 
Start assembling your hot dogs by adding a layer of the habanero sauce onto one inside side of the bun. Place the hot dog in the bun. Then, add a spoonful of pico de gallo and corn (if adding) on top of the hot dog. Sprinkle on cotija, cilantro, and add the jalapeno slices. 
Enjoy!