I think we could all use a fresh batch of chocolate chip cookies right now. 
With everything going on in our world, we must find small pieces of joy when we can. This is exactly why I've been baking chocolate chip cookies for my house. The smell of them baking fresh in the oven produces endorphins and happy memories. The dark chocolate chips are little bits of antioxidant heaven. Baking is a stress-reliever for me; from the mixing of the ingredients by hand to sharing what was made with love.
My chocolate chip cookies are a simple classic recipe. I bake them until they're just cooked through, leaving them chewy and soft in the middle. Even though they only last a couple of days at my house, I still store them in a large reusable plastic container so that they don't dry out.
I use the Enjoy Life Dark Chocolate Morsels for my chocolate chips because of the clean ingredient list. I also prefer dark chocolate morsels because they add a perfect balance of bitterness and sweetness. Enjoy Life makes semi-sweet chocolate morsels if you prefer. If you prefer semi-sweet chocolate chips, Enjoy Life has that kind as well. These morsels are incredible in my Chocolate Chip Zucchini Muffins too!
An important step to creating the perfect chewy chocolate chip cookie is allowing them to rest in the fridge. Letting them sit in the fridge helps the butter from not spreading out of the cookies as they bake. And then, before going into the oven, make sure you place the cookie dough on a room-temperature parchment-lined baking sheet. This creates that perfectly crisped edge yet soft center chocolate chip cookie we all crave.
Chocolate Chip Cookies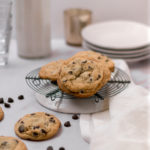 Print This
Ingredients
1/2 cup unsalted butter, softened

1/4 cup plus 2 tbsp granulated sugar

1/4 cup plus 2 tbsp dark brown sugar

1/4 tsp vanilla

1 large egg

1 1/8 cup all-purpose flour

1/2 tsp baking soda

3/4 cup Enjoy Life Dark Chocolate Morsels
Instructions
Using a hand mixer beat together softened unsalted butter and sugars until creamy and smooth, roughly 2 minutes.
Add the egg and vanilla and beat together until fully combined and fluffy, roughly another 2 minutes. Add the baking soda and flour. On the lowest setting of the hand mixer, beat the flour into the butter mixture until the dough comes together. 
Pour in the dark chocolate chips and mix them in using a wooden spoon. Make sure that they're evenly distributed.
Using a large ice cream scooper, scoop out 12 to-be cookies and put them on a parchment-lined baking sheet. Put the baking sheet in the fridge and allow them to rest and cool for at least 2 hours.
After 2 hours, preheat the oven to 350F degrees.
Once preheated, take 6 of the to-be cookies out of the fridge and place them on a room temperature parchment-lined baking sheet. Put them in the oven and cook for 15-16 minutes until lightly golden brown. Let them sit on the baking tray for 2 minutes before putting them on a cooling rack.
Take the remaining 6 cookie dough balls, place them on the baking tray, and bake. Again, let them sit on the baking sheet for 2 minutes before moving them over to the cooling rack.
Enjoy!