It's funny, moving away from San Diego I knew I'd miss Mexican food. But I wasn't prepared for how desperately I miss it. And it's the simple small things I miss. Like a perfectly tangy tomatillo salsa that isn't sweet, creamy refried beans, fresh off the griddle tortillas, and spicy Mexican rice. In hopes of fixing my cravings, I've been starting to work on my own versions of these recipes. If I can't be near my favorite taco shop, I'll bring the flavors of it to my kitchen. First recipe tackled, spicy Mexican rice.
Now I'll warn you, this spicy Mexican rice is just that, spicy. If you don't like spicy food, I recommend halving the hot sauce or using a less hot variety. Though, I chose Marshall's Haute Sauce for a couple of reasons for this recipe. One, they're a local Oregon company that I've loved for years. Also, I like that the Haute Heirloom Habanero is made of simple real ingredients; heirloom tomatoes and habaneros. Plus, it brings out such a beautiful flavor in the rice.
For this recipe, I use a rice cooker. I find that the heat distribution to be more even using a rice cooker. Plus, I like that it leaves a stove burner unused. But if you don't have a rice maker, you can absolutely cook this rice on the stove in a large pot. Bonus, it will take less time to cook.
You'll also see that I add frozen corn and peas to my rice. I think they both help balance the heat level of the rice, especially the corn. I think carrots would be a great addition as well. If you do use carrots, add them in after the rice is cooked. Stir them into the rice, close the lid. This allows the heat of the rice and remaining steam to thaw the vegetables.
Also, I always make extra of this rice to save some for leftovers. It stores for a week in the fridge in an airtight container but also freezes well. Whether you reheat the rice on the stovetop or in the microwave, make sure to add a teaspoon or two of water to the rice. This creates steam and helps prevent the rice from drying out. Having extra makes for a quick and easy dinner, leaving more time to make a batch of margaritas!
Spicy Mexican Rice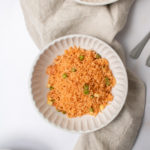 Print This
Ingredients
2 cups dry white rice

water (see instructions)

1 tbsp Marshall's Haute Heirloom Habanero

1/2 cup unconcentrated tomato paste

1 tbsp avocado oil

1 tsp kosher salt

1/2 tsp Better than Boullion vegetable base

1/3 cup frozen corn

1/3 cup frozen peas
Instructions
Rinse the two cups of dried white rice to remove excess startch. Add the rinsed rice into a rice maker. Add water to the 2 cup line, haute sauce, tomato sauce, avocado oil, and salt. (If you're not using a rice cooker, so the same but using a large pot. Use 4 cups of water to cook the rice.) Whisk together until all combined. Add frozen corn and mix. Start the rice maker and let it cook.
Once  it's done cooking, immediately stir in the frozen peas. Close the lid again and allow the hot rice and steam to finish cooking the peas.
Serve and enjoy!
You can freeze the leftovers. When reheating just add a teaspoon or two depending on how much rice you're reaheating.