I'm often inspired by the foods I eat while traveling. This is what lead to my vegan blueberry beet muffins.
This happened recently while exploring Bend, Oregon. A girlfriend of mine told me about a bakery here where everything is made from scratch and they have some of the best bread in town. I instantly knew where I would be going the next morning for a little baked treat, Sparrow Bakery.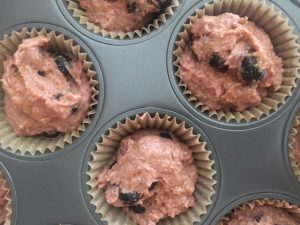 This bakery was darling. It was quaint, smelled of carb heaven, and had a cozy outdoor seating area. I wanted to order one of everything and couldn't imagine picking just one until I saw the vegan blueberry beet muffin. It was airy, sweet from the blueberries, and finished with an earthiness from the beets. I wanted to order a couple of dozen to throw in my luggage and take home but knew that wasn't realistic. So, to the test kitchen, I went.
The first batch was dense and heavy, lacking that airiness I love about a muffin. My ratios were a little off and I had over-mixed the batter. The second batch was better. I  scratched the all-purpose flour altogether and incorporated Sunfood Super Foods Beet Powder and blended cashews. The batch still needed just a smidgen of sugar and a little more love though. So after several muffin batches and lots of guinea pigs, I have a vegan blueberry beet muffin that I can enjoy when I'm missing Sparrow bakery and the beautiful trails of Bend, Oregon.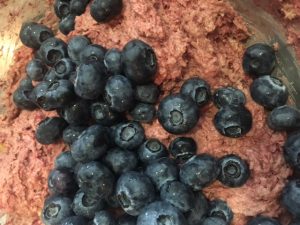 Blueberries are antioxidant powerhouses and filled with vitamin C. Antioxidants and vitamin C can boost fighting white blood cells, helping to stay healthy and fight against germs. They're also high in fiber, aiding in digestion. Healthy digestion is another way in which our body stays healthy by ridding itself of toxins.
Beets are a great low-calorie food high in nutrients. It contains high levels of potassium, fiber, folate, magnesium, iron, and vitamin C & B-6. They're also full of dietary nitrates. Dietary nitrates help produce more energy on a cellular level by improving the efficiency of mitochondria. This is great for athletes because it can increase their overall performance.
Tip – Since you'll be blending the cashews anyways, no need to spend the extra money on perfectly whole cashews. Save some money and buy the bag of bits and pieces.
Vegan Blueberry Beet Muffin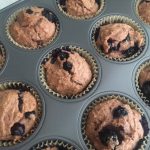 Print This
Ingredients
2 medium beets

1 cup blueberries

1 3/4 cups whole wheat flour

1 cup cashews, soaked overnight, drained and rinsed

3/4 cup almond milk

1/4 cup maple syrup

3 tbsp coconut oil melted

1/2 tsp cinnamon

1 tsp baking powder

1/8 tsp baking soda

1 tbsp corn starch

1 tbsp of Sunfood Super Foods Beet Powder

1 lemon - juiced

1 tsp vanilla

pinch of salt

1 tbsp brown sugar

Additional turbinado sugar for the top of each muffin
Instructions
Start this recipe the night before by placing the cashews in a Tupperware and adding just enough water to cover them entirely. Leave to soak overnight.
Boil or bake the beets until they are soft. (Or purchase them ready to use. I get mine at Trader Joe's, but can find them at almost all grocery stores.)
Preheat oven to 350 degrees F.
In a large bowl, mix the flour, corn starch, brown sugar, baking powder, Sunfood Super Foods Beet Powder, and salt. Set aside.
Add the beets (cooled if you boiled or baked them), beet juice, lemon juice, cashews, almond milk, maple syrup, coconut oil, cinnamon, and vanilla to a high speed blender. Blend together until you get a smooth liquid.
Slowly add the liquid mixture from the blender into the flour mixture and mix together. Make sure to not overwork the batter and stir until just combined.
Add blueberries by gently folding them into the batter.
Scoop enough batter into each muffin mold to fill it to the top. My trick – I use an ice cream scoop!
Sprinkle turbinado sugar onto each muffin.
Bake at 350 degrees F for 30 minutes.