I love a good salad dressing! And a good one can make an ordinary salad into an incredible one. Sometimes if I don't have much for a salad and basically just have lettuce, I'll still make a salad. But that's when a good dressing makes all the difference. One of my favorite ones is cilantro lime dressing.
Cilantro lime dressing is tangy, herbaceous, and so good. I like pairing mine over a bed of romaine, arugula, charred corn, jalapeno, avocado, and cotija. Want to add some grilled chicken or shrimp, that'd be amazing too! The tangy dressing pairs perfectly with the toppings and is a welcomed brightness in spring and summer. It's also delicious drizzled over a grilled piece of white fish.
The dressing is extremely easy to make. Begin by adding all of the ingredients minus the olive oil into a food processor. Pulse the ingredients a few times to break down the cilantro and garlic a bit. Add the olive oil and continue blending for two to three minutes. It will result in a smooth fully emulsified dressing.
You can store the cilantro lime dressing in a small jar for up to a week. I doubt it will last that long in your house though, it doesn't last that long in mine! Be on the lookout for Mexican-inspired recipes in the upcoming weeks at Cooking Restored.
Cilantro Lime Dressing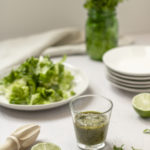 Print This
Ingredients
1 1/2 cilantro (stems included)

fresh juice of 2 limes

1 large garlic clove

1/4 tsp cumin

1/4 tsp kosher salt

1/2 cup olive oil
Instructions
Add all the ingredients into a food processor, except for the oil. Pulse it a couple of times to begin breaking down the cilantro and garlic.
Add the olive oil and allow the food processor to continue to blend together for 2-3 minutes until fully emulsified and smooth.
Store in a small jar and use within a week.
Enjoy!