I'm not quite sure what is more summer than simply tart lemonade. 
The tart yet the sweet combination of summer is often what I crave while enjoying the sunshine and warmth of the season. Whether it's sitting by the pool or an offroad adventure through the high desert, it's thirst-quenching. Plus, it pairs great with a grill out dinner, like turkey burgers!
When I make lemonade, I make a big batch and keep it in the fridge for a couple of days, if I let it last that long. It's easier for me this way! This is especially true when it's extra hot out and I don't want to fuss with much. This also ensures that I don't have to deal with the added step of making another batch of simple syrup, even though making simple syrup is just that, simple.
I recommend making simple syrup in the morning, allowing it to cool at least a half-hour before using it. I use pre-juiced 100% lemon juice when I can get my hands on it but have juiced my own lemons and it tastes just the same. Yet if you're using sweeter lemons, like Meyer, you won't need as much simple syrup.
To enjoy, pour your simply tart lemonade over ice and enjoy that summer feeling! For a festive summer cocktail, add a shot of bourbon and a sprig of rosemary.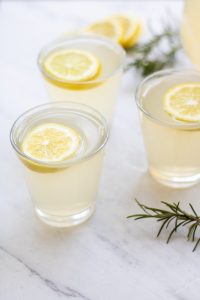 Simply Tart Lemonade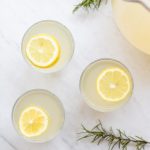 Print This
Ingredients
1 cup sugar

1 cup water, plus additional

2 cups lemon juice

1 3/4 cup simple syrup

10 cups water
Instructions
For the simple syrup –
Combine the 1 cup sugar and water in a saucepan over medium-low heat. Stir the mixture continuously until the sugar is completely dissolved.
Remove from the heat and allow to cool.
For the lemonade –
In a large pitcher, combine lemon juice, simple syrup, and water.  Stir to combine.
Pour over ice and enjoy!