Tzatziki Sauce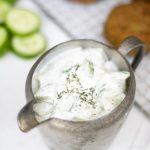 Print This
Ingredients
1 cup plain yogurt (I prefer lactose-free)

1/2 lemon, freshly squeezed

1/4 cup Persian cucumber, thinly sliced

1/2 tbsp dried dill

1/8 tsp salt

1/8 tsp white pepper
Instructions
Thinly slice 1/4 cup of Persian cucumber and set aside.
Add yogurt, I prefer to use Green Valley Organics lactose-free plain yogurt, dill, salt, pepper, and freshly squeezed lemon juice to a small bowl. Whisk together.
Add sliced cucumber, stir to combine.
Keep cooled in the fridge until ready to serve. Can be stored roughly 3-5 days in the fridge.