I love a good fruit crumble. Especially an apple crumble on a cooling fall day. It takes me back to my mom baking up apple pies and crumbles with our apple tree out back. The tree started out so small but grew to a healthy producing tree. We sometimes had too many apples! But my mom always made the best apple desserts. So when I was craving apple crumble the other morning but didn't want to have a bunch of leftovers, I decided to make myself my own little version. This is how the apple crumble breakfast skillet came to be.
This recipe is a much faster way to make apple crumble. And best of all, it just uses one dish to make, a cast iron skillet. If you don't have a cast-iron though, you can use a normal skillet pan. Cooking the apple crumble on the cast iron produces the same caramelized bites you're searching for with a traditional crumble.
Something to note. It's very easy to go from caramelized bites of goodness to burnt sugar. So make sure that you stir the apple crumble frequently while it's cooking and that you keep an eye on it. If you burn the sugars or oat, you'll get a burnt bitter taste in your crumble. Stirring often and turning the heat down to low will help prevent this.
Also, try this dish with pear. It's just as amazing! Serve your apple crumble breakfast skillet with a dollop of yogurt and some chopped walnuts and enjoy!
Apple Crumble Breakfast Skillet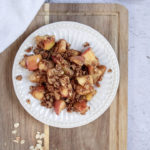 Print This
Ingredients
1 apple, I prefer Honeycrisp

1 tbsp unsalted butter

1/2 tsp cinnamon

1 1/2 tsp dark brown sugar

1/2 tsp sugar

1/2 tsp flour

1/4 cup oats
Instructions
Cube an apple into bite-size pieces. Meanwhile, melt the butter over medium-low heat in a cast iron. Add the apple to the melted butter. Saute the apple for 5 minutes, stirring occasionally.
In a separate bowl, mix the cinnamon, sugars, flour, and oats. Add the mixture to the apples and stir them together, coating the apple pieces. 
Reduce the heat to low and continue cooking the apple crumble for an additional 5-10 minutes or until apples are tender. Make sure to stir often to ensure the sugars and oat don't burn.
Pour into your favorite bowl and top with a dollop of yogurt and chopped walnuts. 
Enjoy!