Have you ever had a Mexican hot chocolate? It's pretty special. Similar to hot chocolate, but with cinnamon and sometimes a dash of cayenne. The added spices create a layer of depth to the hot chocolate and a little kick of spice. Now put those flavors into donuts and you have Mexican hot chocolate donuts; a spicy chocolatey delicious treat for breakfast.
Typically I bake my donuts, but a friend and I were chatting about our new air fryers which inspired me to give it a try. I have made these traditionally using a dutch oven and frying them in oil, which also works. You'll find directions for both in the instructions of the recipe. Personally, I prefer the air fried version. For my baked apple cider donuts, click here.
These donuts are similar to the classic old-fashion donuts, made with sour cream, and are a little cakier. Growing up, these were always my favorite. I was never a fan of sprinkles. I always just wanted the chocolate old-fashioned donuts. That's still pretty typical. And these donuts, they have me going back for seconds.
And since I have continued to go back for seconds and have made a few batches now, I've learned some tips about making these donuts. I find it best to skip the donut holes and fold the holes back into the dough so you have more dough to roll out, making more donuts. Also, please allow your donuts to sit a couple of minutes once out of the air fryer or fryer. There is no need to rush the donuts into the chocolate glaze. In fact, if they're cooler you'll be able to handle them better, allowing for better glaze coverage.
Now if you don't prefer spice, feel free to omit or halve the cayenne from the glaze. Although the cayenne is subtle and rounds out the spice from the cinnamon. The spice combination of cinnamon and cayenne will also wake up your taste buds. So say hello to GOOD mornings and treat yourself to these incredible Mexican hot chocolate donuts!
Mexican Hot Chocolate Donuts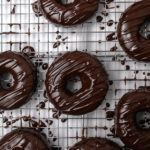 Print This
Ingredients
3 tbsp unsalted butter, softened

1/4 cup sugar

1/2 cup dark brown sugar

2 large egg yolks

1/2 tsp vanilla extract

2/3 cup sour cream

2 cups all-purpose flour

1/2 tsp baking soda

1/2 tsp salt

2 tsp cinnamon

2 tbsp cocoa powder

1 cup semi-sweet chocolate chips - for the glaze

1/2 cup unslated butter - for the glaze

3/4 tsp cinnamon - for the glaze

1/2 tsp cayenne (optional) - for the glaze
Instructions
Using a stand mixer and the paddle attachment, cream together the butter and sugars. Add the egg yolks and vanilla and mixed into the creamed butter.
Measure out 2/3 cup sour cream and set aside.
In a separate bowl, whisk together the flour, baking soada, salt, cinnamon, and cocoa powder. 
Add 1/2 of the sour cream and 1/2 of the flour mixture into the stand mixer. Mix on low until they begin to come togerther. Stop the mixer, add the remaining sour cream and flour mixture. Mix the ingredients until they just come together. Make sure not to over mix the dough. Over-mixing and overworking the dough will result in a tough dough and donut.
Pour the dough out onto a lightly floured surface and roll it a 1/2 inch thick. Using a donut cutter or two different-sized glasses, cut out donuts and set on a parchment-lined tray. Put the donut holes back into the dough and roll and cut again. Do this a total of only three times to prevent the dough from getting tough. Let the donuts rest for 10 minutes.   
While the donuts are resting, begin making your glaze. Add the butter and chocolate chips to a microwave-safe bowl and heat in the microwave for 30 seconds to 1 minute. Be careful, the bowl may be hot. Once out, whisk the butter and chocolate together until completely melted together. This may take 30 seconds of continuous whisking. If it's taking longer, place it back in the microwave and heat for additional 10-second intervals until completely melted and mixed together well. Add the cinnamon and cayenne, whisk together, and set aside.
Begin preheating your air fryer. (This is how our air fryer works. I'm not sure how others work, so adjust accordingly.) Set the heat for 365 and cooking time to 8 minutes.
After the donuts have rested the 10 minutes and the air fryer is preheated, place your donuts in and allow to cook for 8 minutes. Once they're done, take them out and allow them to cool until manageable to hold.
Dip each donut into the spiced chocolate glaze. Allow the donuts to sit for 15 minutes and then dip each donut back into the glaze. This gives the donuts those extra chocolate bites. Allow the donuts to sit at least half an hour and enjoy! 
*Traditional frying – Start heating up the canola oil in a dutch oven. You want to fill the dutch oven with at least 3 inches worth of canola oil. Heat the oil over medium-low heat until it reaches 350-360F using a candy thermometer. Once the oil is ready to go, transfer 4 donuts at a time into the dutch oven. Cook for 1 minute and 30 seconds. Flip and cook for an additional 1 minute and 30 seconds. Remove the cooked donuts from the oil and let cool on a paper towel-lined plate. Repeat until all the donuts have been cooked.