I remember this one year my parents took my brother and me to a pumpkin patch while we were visiting family in Oregon. Now, where I'm from, it's usually 80 plus degrees walking through the pumpkin patch and feels more like summer than fall. But this pumpkin patch in Oregon had all the fall vibes. Not only was the air crisp, but the ground was wet from the day's earlier rain shower. The leaves on the trees were shades of yellow, orange, and red. And this pumpkin patch was serving up hot apple cider and fresh apple cider donuts.
This was years ago, but I still remember the day so vividly. And those apple cider donuts, I can't forget those. They came out of the fryer blazing hot and then coated with cinnamon sugar. We each devoured ours. I've never been able to find an apple cider donut quite as good as those pumpkin patch donuts. So instead of searching for a good apple cider donut this year, I decided to make my own.
These apple cider donuts are full of fall flavor. The batter includes the fall spice trio; nutmeg, cinnamon, and clove. And although the fall spice trio, I love this trio of spices all year round. It makes the house feel cozier. I also bake my version of apple cider donuts to remove the grease and extra fat that comes along with it. The smell of the donuts baking fills the kitchen with my childhood pumpkin patch memory every time.
These donuts include a plant-based yogurt, I used Kite Hill unsweetened almond yogurt. As someone who's lactose-intolerant, I love that there are options like this now. They turned out great! If you're not worried about dairy though, you can use unsweetened plain yogurt or sour cream as a substitute.
In the recipe directions, I give options for a cinnamon-sugar coating and apple cider glaze. I prefer the cinnamon-sugar dunk and coat, it reminds me of a churro, but both are delicious! And when you make these, make sure you're ready to eat some donuts because they're best served warm. But they last a day or two in an air-tight container on the counter.
Apple Cider Donuts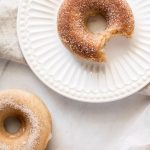 Print This
Ingredients
2 cups apple cider

3 cups all-purpose flour

3 tsp baking powder

2 1/2 tsp cinnamon

1/2 tsp nutmeg

1/4 tsp cloves

1/2 tsp salt

1/2 cup unsweetened plant-based yogurt (I used Kite Hill almond yogurt)

1 cup light brown sugar

2 eggs, room temperature

1 tsp vanilla

6 tbsp unsalted butter, melted
Instructions
To start, add the apple cider to a saucepan. Over medium heat, bring to a boil and allow the cider to reduce to 1 cup. This should take roughly 7 to 10 minutes. Stir the cider occasionally while boiling to avoid any burning. Remove from heat and allow the apple cider to cool to 15 minutes.
Preheat over to 350.
In a large mixing bowl, whisk the flour, baking powder, cinnamon, nutmeg, clove, and salt together. Set bowl aside.
In another bowl, mix together the reduced apple cider, plant-based yogurt, brown sugar, vanilla, egg, and melted butter with a whisk.
Slowly add the wet ingredients to the dry ingredients, using a wooden spoon to combine the two mixtures. Mix until just combined. Make sure not to overmix at this point.
Using a pipe bag or a large ziplock bag with the corner cut out, shape the dough into each donut hole on the nonstick donut bake tray.
Bake for 13-15 minutes or until a cake tester runs cleans. Allow the donuts to cool on a cooling rack for 5 minutes before adding any topping.
Donuts are best eaten the day of!
For cinnamon-sugar coating –
Add 4 tablespoons of unsalted butter to a heatproof bowl and put in the microwave for 40-45 seconds. The butter should come out melted. Set aside. Then, mix together 1/2 cup of sugar and 2 teaspoons of cinnamon until fully combined. Dunk each donut top into the butter followed by the cinnamon-sugar mixture. Make sure to get a good coating of cinnamon-sugar for the best flavor and look.
For apple cider glaze –
Mix together 1/2 cup of powdered sugar and 1 tablespoon of apple cider until glaze forms and set aside. Prepare a cooling rack by setting it on top of a sheet of parchment paper. Dunk the top of each donut in the glaze and set it on the cooling rack to allow the glaze to set, roughly 5 minutes.