Last summer I made one of my proudest recipes thus far; nectarine brunch cake. One, how can you be mad about cake for breakfast? Second, the cake is beautifully balanced with poppy seeds and nectarines that end up caramelizing during baking. I've been craving it lately. But being that it's winter and nectarines aren't in season, I wanted to create a winter version. And so the spiced brunch cake muffins came to be.
I love a good spice cake so I thought this would be a fun take on the classic spice cake. If you're looking for a traditional spice cake, check out my recipe here. These muffins are spiced with the classic spices of cinnamon, clove, nutmeg, and ginger. Creating a spiced backbone paired well with the subtle nuttiness of the poppy seeds.
The spiced brunch cake muffins are topped with a cinnamon-sugar layer. As they bake, the cinnamon-sugar creates a cracked sweet topping. Because of this, and the poppy seeds, there's a slight crunch to each bite. I find it quite addicting.
Something to be mindful of when making the batter, don't overmix it. The dough is naturally a thicker more sticky dough, to begin with. If you overmix it, the dough will get tough making for tough muffins. They'll still taste delicious but the texture will be off. That's why it's important to not mix the dough for more than thirty seconds once adding in the flour and sour cream.
These muffins will last a few days in an airtight container, but honestly, they don't last long in my house. They haven't been out of the oven for six hours yet and already four are missing. I would say they're a hit.
Spiced Brunch Cake Muffins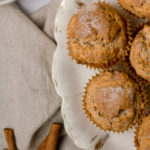 Print This
Ingredients
1 1/2 cup all-purpose flour

1 tbsp poppy seeds

1 tsp baking powder

1/4 tsp kosher salt

1 1/2 tsp cinnamon

1 tsp dried ginger

1 tsp clove

1/2 tsp freshly ground nutmeg

1/2 cup unsalted butter, softened

1/2 cup sugar

1 egg

1/2 cup sour cream

2 tbsp sugar - for the topping

1/2 tsp cinnamon - for the topping
Instructions
Preheat oven to 350.
In a bowl, whisk together flour, poppy seeds, baking powder, cinnamon, ginger, clove, nutmeg, and salt. Set aside.
In a stand mixer using the paddle attachment, cream together the butter and sugar. Add the egg and cream together. You may need to scrap the side of the bowl to ensure the butter, sugar, and eggs are fully mixed together.
Add the flour mixture. On the slowest setting, begin mixing the two mixtures. When it's just beginning to come together, add the sour cream. Kick up the stand mixer speed a notch or two and mix for a max of 30 seconds to ensure it's all combined. Make sure not too overmix the dough, it can become tough. The dough is naturally a thicker more sticky dough.
Line a muffin tin with 9 parchment baking cups. Evenly fill the baking cups with the batter. 
Make the cinnamon-sugar topping by mixing together the cinnamon and sugar in a small bowl. Evenly sprinkle on top of each brunch cake muffin.
Bake the muffins for 35-40 minutes or golden brown and baked through.
Take the muffins and allow them to cool for 5 minutes before eating.
Enjoy!