My mom was always in the kitchen baking something sweet when I was a little girl. In fact, she often still is. One of her regulars is her banana bread, which has been perfected through generations. She doesn't even look at the recipe anymore, she knows it by heart. Anytime she has very ripe bananas that no one will eat anymore, she'll whip up a batch. So when we had some of these bananas on the counter, I knew I wanted to bake some spent grain banana bread.
Instead of using her traditional banana bread though, which is amazing, I wanted to incorporate some of the spent grain and spent grain flour from brewing beer. The more sustainable and less food waste, the better! So into the kitchen, I went to experiment.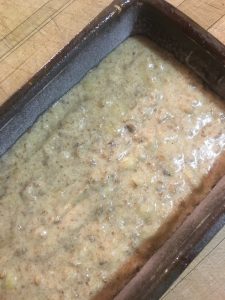 The first batch, although delicious, was far too moist. The ratios were off. The bread ended up baking for over an hour and was still too moist, resulting in a collapsed loaf of bread. In my recipe development excitement, I had forgotten baking basics 101.
Needless to say, I was ready to start batch two the minute there were more abandoned overripe bananas. Luckily it was perfect timing for a morning to experiment in the kitchen, it was cold, gloomy, and a storm was rolling in. For this batch, I tweaked the butter, the grain and flour ratios, and added a leavening agent. As the clouds got darker, the house filled with the aroma of caramelized banana. I could hardly wait for it to get out of the oven.
Success! This batch was far better than the last. It only took 30 minutes to bake until the tops became a golden brown. The bread had a beautiful rise and was fluffy. As I impatiently waited for the bread to cool to examine the inside, I could smell of the sweetness of the malted spent grain. This batch included spent grain at almost every stage; wet post-brewing, crunchy dried, and flour. The crunchy dried bits of spent grain added a little bite and crunch to the bread, similar to what adding nuts would do.
This bread is magical right out of the oven but can be sliced and heated up in a cast iron for breakfast or a snack. Drizzle some almond butter, maple syrup, and/or nuts on top to make it a variety to a 'pancake' breakfast.
Spent Grain Banana Bread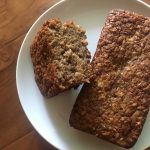 Print This
Ingredients
1/2 cup all-purpose flour

1/2 dried spent grain

1/2 cup spent grain flour (see recipe)

1/3 cup sugar

1/2 tsp salt

3 TBSP brown sugar

4 TBSP unsalted butter (room temperature)

1 1/2 tsp baking powder

1/2 tsp baking soda

2 eggs

1/2 cup wet spent grain

3 very ripe bananas, smashed
Instructions
Preheat oven to 375 degrees.
In a bowl, begin by mixing all-purpose flour, spent grain flour, dried spent grain, sugars, salt, baking powder, and baking soda.
Add in butter and eggs to flour mixture and mix.
Add wet spent grain and mix.
Mash the three very ripe bananas and add to mix.
Pour mixture into greased small loaf pans and bake for 30-35 minutes, testing the bread with a toothpick to ensure it's fully cooked through. Let the bread cool before slicing.