Chorizo is a breakfast dish I crave from time to time, but I needed to find a non-soy option. Since we eat little meat these days, having a vegetarian option was a must for us. So, I got to experimenting and created this amazing veggie chorizo! It's perfect for making chorizo and egg burritos.
One trick to note, make this the night before for quicker mornings. I make a batch of this the night before then simply warm it up each morning. One batch made and I have a few day's worths of veggie chorizo. You can also make it ahead of time and then freeze it.
When making the veggie chorizo, start by pulsing the walnuts, jalapeno, and onion in a food processor. Pulse until small crumbles appear. Next, add the cauliflower. Pulse it all until there are very small pieces of cauliflower and look like crumbles. See below. Once at this stage, remove from the food processor and set aside in a large mixing bowl.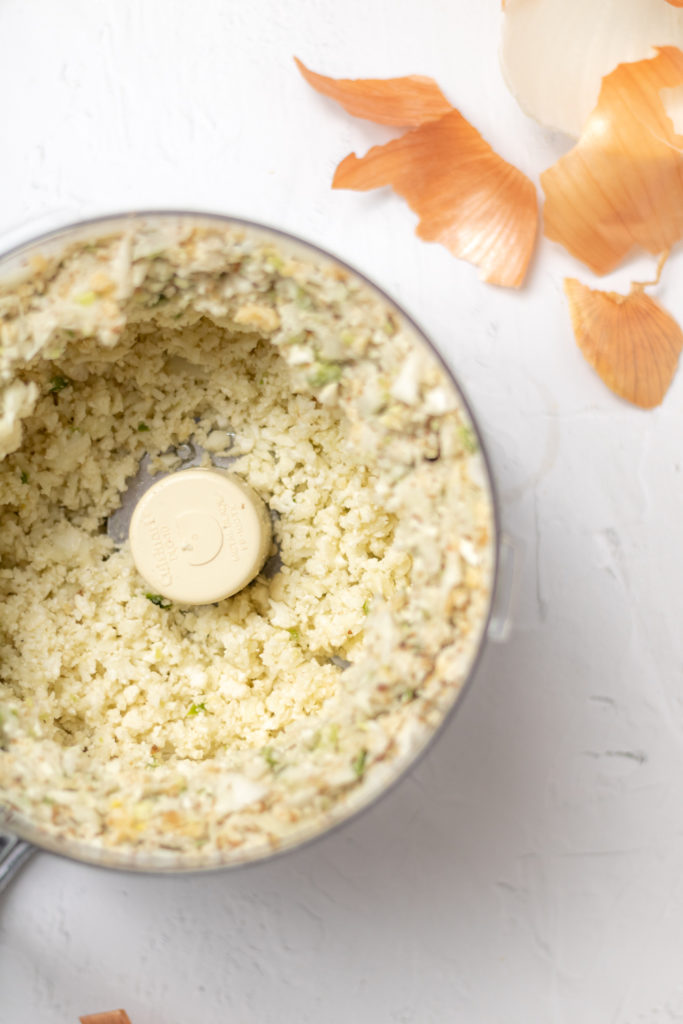 Next, make the spice mix. In a small bowl, add the spices, avocado oil, and vinegar. Using a spoon, mix them together until a thick paste forms. Then, add the spice mix to the cauliflower mix. Mix the two, using a spatula, until the spice mix is evenly distributed throughout.
Place the veggie cauliflower on a parchment-lined baking dish. Set it out in crumbles, not evenly smoothed out on the tray. Bake it in the oven for fifteen minutes. Remove the veggie chorizo from the oven, stir it up and break it apart, then place it back in the oven for an additional fifteen minutes. Repeat this step for a total of forty-five minutes in the oven.
I love to add veggie chorizo to scrambled eggs, put it in a flour tortilla, and eat as a burrito! It's also good sprinkled over Mexican brunch potatoes with an over-easy egg. Make sure to eat the veggie chorizo after five days of cooking or put it in the freezer.
Veggie Chorizo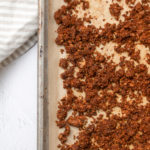 Print This
Ingredients
1/2 cup walnuts

1/2 medium yellow onion, cut into 3-4 chunks

1 jalapeno, cut in half

1 head of cauliflower, broken down into smaller bite-size pieces

3/4 tsp kosher salt

1 1/2 tbsp Mexican oregano

4 tbsp paprika

3 tsp cumin

4 tsp ancho chile powder

2 1/2 tsp guajillo chile powder

3 tbsp avocado oil

2 tbsp vinegar
Instructions
Preheat the oven to 375F. Place a sheet of parchment paper on a baking sheet. Set aside.  
In a food processor, add walnuts, onion, and jalapeno. Pulse until coarse. Add the cauliflower and kosher salt. Pulse until broken up into small pieces, pictured above. Pour the mixture into a large mixing bowl and set aside.
In a small mixing bowl, add the avocado oil, vinegar, and spices. Using a spoon, mix them all together until a thick paste forms. Add the spiced mixture to the pulsed cauliflower mixture and mix until the spices are evenly mixed together. I like to use a spatula for this.
Place the veggie chorizo mixture onto the prepared baking sheet. Break the mixture up a bit so that it's not one even slab of veggie chorizo. Place it in the oven and bake for 15 minutes. 
Remove the veggie chorizo from the oven, stir and break it up, and place it back in the oven again for another 15 minutes. Do this again, for a total of 45 minutes in the oven.
Once it's done cooking, remove the veggie chorizo from the oven. Can store in the fridge for 5 days.
Mix it with scrambled eggs and add it to a flour tortilla for the ultimate veggie chorizo burrito!
Enjoy!