Real talk, this recipe was inspired by wilted arugula that was about to go bad. And as you know, I absolutely hate wasting food. I strive to waste as little food as possible. So after a little brainstorming, I knew I had to make an arugula pesto.
What I love about this recipe is that it's just different enough from traditional pesto that it tastes new, yet close enough that it feels familiar. The arugula adds a touch of pepper and extra greenery to the pesto. Adding the dark leafy greens also adds some extra health benefits.
This recipe is also really easy to make! All of the ingredients go into a food processor before being pulsed into a sauce. If the pesto is still a little too thick, add small amounts of more olive oil at a time until you achieve the desired consistency. Store the arugula pesto in an airtight container for a week. Add it to pasta, eggs, or on pizza.
My favorite way to eat arugula pesto is adding it to potatoes. First, take two large yukon golds and cut them into cubes. Then, add a teaspoon of salt, a tablespoon of avocado oil, and two tablespoons of the pesto. Mix it all together and then pour the potatoes onto a parchment-lined baking dish. Then, bake the potatoes at 375F for thirty-five minutes. Serve them with extra dollops of pesto and you have incredible potatoes. Toss an over easy egg on top of the potatoes for a flavor punched breakfast!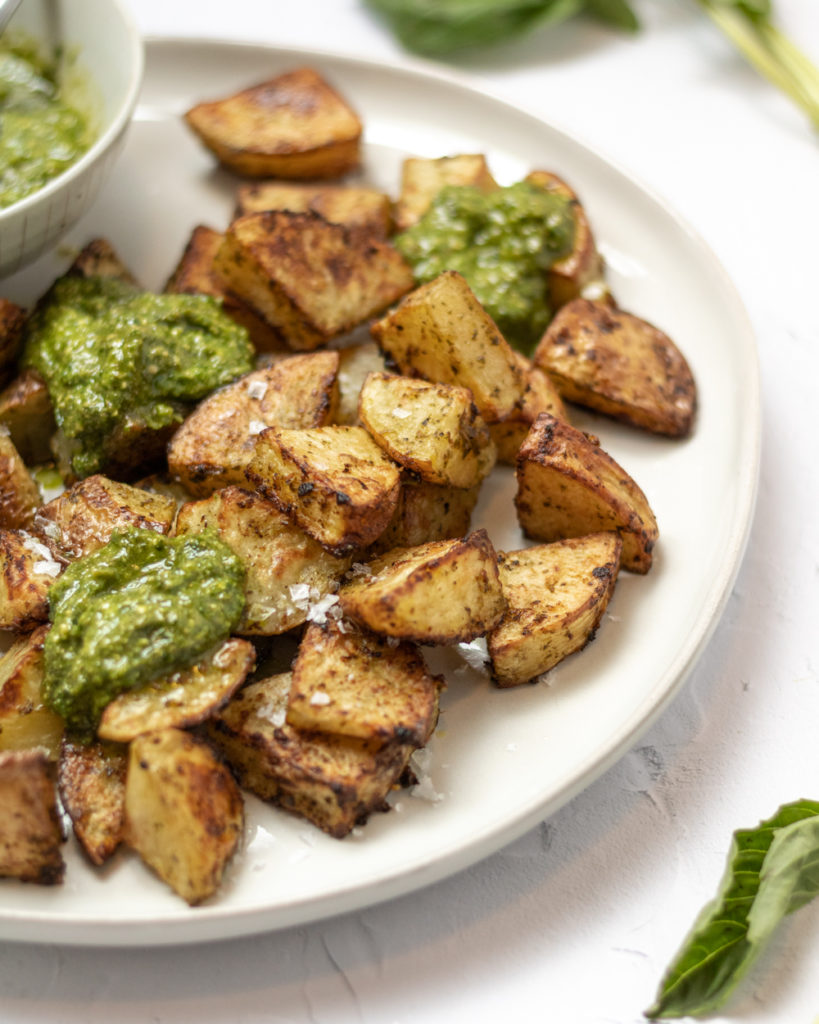 Arugula Pesto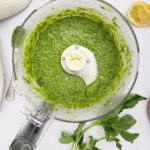 Print This
Ingredients
1 1/2 cups arugula

1/2 cup olive oil

1 cup parmesan

1/4 cup walnuts

2 cloves of garlic

2 tsp lemon juice

1/2 cup basil leaves

1/4 tsp salt
Instructions
Add all of the ingredients to a food processor and blend until smooth. Add additional olive oil if needed.
It can store in the fridge for up to a week in an airtight container.
Enjoy!