Granola is something I like to have on hand, especially during the summer months. I like to have it over a bowl of yogurt and fresh berries for breakfast when it's hot. This simple granola is perfect for those hot mornings and quick to fix up.
This recipe is made using some of my favorite granola ingredients and pantry staples. If you don't have chia seeds, have a different nut, or don't have pumpkin seeds, swap them out for something else or remove them entirely. You can make this granola your own!
Start making the granola by heating the coconut oil, honey, and brown sugar in a pot over medium heat. It should only take a minute to two to melt the oil and honey and dissolve the brown sugar. It's essential that you stir it occasionally so that the brown sugar doesn't burn.
Meanwhile, add two cups of oats into a large mixing bowl. Add the melted sweet mixture to the oats and using a spatula, mix it all together. Then, add the rest of the ingredients and mix it all together again. You want to coat everything with the sweet mixture.
Next, you'll place the granola over a parchment-lined baking sheet and put it in the oven. On a low 250F, cook it for fifteen minutes. Stir the granola and place it back in the oven for another fifteen minutes. Repeat this step a couple more times until you've baked it for a total of one hour.
Once out of the oven, let it cool completely before storing it in an airtight container. It's best for two weeks, placed on yogurt, a smoothie bowl, in a bowl of oat milk, or as a snack on the trail. If you like this recipe, make sure to check out my rising sun granola recipe!
Simple Granola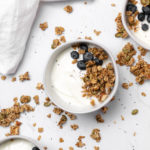 Print This
Ingredients
1/4 cup dark brown sugar

1/4 cup honey

2 tbsp coconut oil

2 cups oats

2 tbsp chia seeds

2 tsp cinnamon

1/4 tsp salt

1/2 cup chopped raw almonds

1/3 cup pumpkin seeds
Instructions
Preheat the oven to 250F.
In a small pot, over medium heat, add the brown sugar, honey, and coconut oil. Stir occasionally until they're melted and the brown sugar is dissolved. This should only take a minute or two. (Stirring occasionally is essential here to ensure the brown sugar doesn't burn.)
In a large bowl, add the oats. Pour the melted mixture over the oats and mix it in until the oats are fully coated. Add the chia seeds, cinnamon, salt, chopped almonds, and pumpkin seeds. Mix all the ingredients together until everything is fully coated and evenly combined.
Pour the granola over a parchment-lined baking sheet. Place it in the oven and bake for 1 hour, mixing every 15 minutes. After the hour, allow the granola to cool for 15-20 minutes before breaking the granola into pieces. Store in an airtight container for up to 2 weeks. 
Enjoy over yogurt and fruit, as a snack on the trail, or in a bowl of milk.