Each Christmas my mom puts out a large bowl of whole nuts on the coffee table with a nutcracker sitting close by. This was a tradition for her since she grew up seeing her mom do the same thing. I remember trying my first brazil nut this way. But like most things this year, the coffee table looks a little different this Christmas. We didn't get our large bag of whole nuts this year, but I still wanted to incorporate the tradition of them this year by making my salty sweet roasted nuts.
These salty sweet roasted nuts are super simple to make. And although these are my favorite nuts to use, you can use whatever raw nuts you have in the house. I highly recommend adding the pecans though, they're so good. When buying raw nuts, I suggest buying them in bulk to save money. This way you'll have leftover nuts for making trail mix and topping fruit crumbles.
Although I prefer my nuts a little more salty, add an extra tablespoon of maple syrup if you want yours a little sweeter. When making the nuts, make sure to fully coat them in the spices, herbs, and maple syrup before placing them in the oven. This ensures the nuts are evenly flavored during roasting. Stirring the nuts halfway through roasting also helps with this and even roasting.
I can't stress enough, please let these salty-sweet roasted nuts cool completely before enjoying them. Freshly roasted nuts come out of the oven extremely hot. Let them sit and cool before transferring them to an airtight container. These make excellent Christmas gifts too! Store the nuts in a mason jar and wrap with a festive fabric and a rosemary sprig. Or place them on your coffee table at your next get-together for everyone to enjoy.
Salty Sweet Roasted Nuts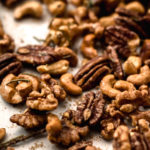 Print This
Ingredients
1 cup pecans

1 cup cashews

1 cup walnuts

2 tbsp maple syrup

1/2 tsp sea salt

1/8 tsp fresh cracked pepper

2 sprigs of fresh rosemary
Instructions
Preheat the oven to 350. In a large bowl, mix all the ingredients together until the nuts are fully coated. Pour onto a parchment-lined baking sheet. Place in the oven and roast for 18 minutes, stirring halfway through. Remove from the oven and cool entirely before serving.