Have you decided hot chocolate is your new drink of choice this winter? I know I have! We've been drinking a lot of hot chocolate these last couple of months as the weather has shifted from fall to winter. It's been the perfect chilly day warm-up. But let's not just have hot chocolate, let's make it extra creamy and full of chocolate flavor. That's why I started making my own version of drinking chocolate.
There's a wonderful cafe in Portland, Oregon that I had my first drinking chocolate. It puts hot chocolate to shame. It's thick, milky, and chocolatey. It's decadent and rich. Honestly, it kinda ruined plain hot chocolate for me. So after almost a year after my first one, I knew I had to find a way to make my own at home.
Since I'm lactose intolerant, I use oat milk for this recipe but it could easily be substituted with whole milk. Begin by heating up oat milk over medium to medium-low heat, stirring often to ensure it doesn't burn on the bottom. Add the dark brown sugar, cocoa powder, and dark chocolate chips. The chocolate chips are the key ingredient here. They give the drinking chocolate that decadent creamy and thick texture.
Then whisk, whisk, whisk. This helps melt down the chocolate chips and combine the cocoa powder and brown sugar into the milk. Once the chocolate chips are melted and the drinking chocolate is hot, serve in mugs and enjoy. I love adding oat whipped topping to mine with some added shaved chocolate! Or if mini marshmallows are your thing, add them! And for a little extra something special, add a shot of bourbon to your mug before pouring in the drinking chocolate.
Drinking Chocolate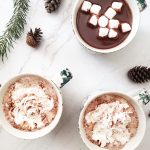 Print This
Ingredients
3 cups oat milk

4 tbsp cocoa powder

3 tbsp dark brown sugar

2 tbsp dark chocolate chips (Enjoy Life)
Instructions
Start by heating up 3 cups of oat milk in a saucepan over medium to medium-low heat. Heat until warmed, 3 to 5 minutes, stirring often.
Add the cocoa powder, brown sugar, and dark chocolate chips. Whisk together until all combined and chocolate chips are melted.
Serve hot in your favorite mug with some whipped cream and shaved chocolate or mini marshmallows.