Every Christmas I look forward to buying a bag of Dove dark chocolate peppermint bark. I love unwrapping them and finding a different festive saying in each one. I put some in my hot cocoa but most are simply just eaten. But this year I wanted to create something different, so I made a batch of my chocolate brownie mint cookies.
Now, these cookies are not your ordinary cookie. They're everything you want from a cookie and a brownie all-in-one, plus some holiday cheer! These chocolate brownie mint cookies get the slightly crunchy edges that you expect from a good cookie but are fluffy and soft in the middle like a brownie. And with all the cocoa powder added to the dough, it's filled with the taste of rich chocolate flavor.
I prefer using the Dove dark chocolate peppermint bark squares in these for a few reasons. For one, I prefer dark chocolate. The bitterness of the dark chocolate adds depth of flavor. I also like that there's a thin layer of white chocolate mixed in with the peppermint, adding creamy specks of peppermint goodness throughout the cookies. If you're unable to find these specific candies though, try using your favorite chocolate mint candies.
A standing mixer paddle attachment will be your best friend for this recipe. To get the chocolate brownie mint cookies so fluffy, you'll want to beat the butter for a minute. This allows air to get into the butter making it creamy and fluffy. The paddle attachment also helps evenly mix the ingredients together at the end when the dough is tough and sticky. I also highly recommend letting these sit in the fridge for a few hours before baking. You can even let the dough sit overnight. Just make sure to take the dough out and let it sit for 30 minutes before baking with it.
The chocolate brownie mint cookies easily fall apart right out of the oven. Although it's tempting to eat these cookies fresh out of the oven, it's important to let them sit for at least 5 minutes. This gives the cookie time to settle into its shape and binds together better. Once they've cooled a bit though, get your cookie on!
Chocolate Mint Cookies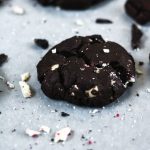 Print This
Ingredients
1/2 cup unsalted butter, softened

1 cup all-purpose flour

2/3 cup cocoa powder

1/8 tsp salt

1 tsp baking soda

1/2 cup dark brown sugar

1/2 cup granulated sugar

1 egg

2 tbsp oat milk

15 Dove Dark Chocolate Peppermint Bark squares or other chocolate peppermint candies
Instructions
Using a stand mixer with the paddle attachment, or hand mixer, whip the softened unsalted butter for 1 minute on medium speed.
While it's whipping, using a separate bowl, whisk together the flour, cocoa powder, salt, and baking soda. Set aside.
To the whipped butter, add the two sugars and beat on high until fluffy. Add the egg and do the same.
Add the flour mixture to the butter mixture and beat together on low until combined. The dough will be thick. Add the oat milk and beat on high until combined. Add the chopped Dove chocolate bits and beat until evenly distributed. The dough will be thick and sticky at this point, but that's ok. Remove the bowl from the stand mixer, cover it with foil, and place it in the fridge for at least 3 hours but can go overnight.
When you're ready to bake the cookies, take the dough out of the fridge 30 minutes prior to baking.
Preheat the oven to 350.
Prepare two baking sheets with parchment paper.
Scoop 2 tablespoons of dough out at a time and roll into a ball. Place each ball evenly spaced on the baking sheets. You should have 16 balls of dough.
Bake the cookies for 11 minutes. Remove them from the oven, but keep the cookies on the cookie sheets for an additional 5 minutes. The cookies will still look a bit under but will continue to cook on cookie sheets and settle into shape. After the additional 5 minutes, place the cookies on a cooling rack to continue to cool.
These keep for 2-3 days in an airtight container.