Well, here I am again with another Mexican food recipe. I miss it, so I've been making a lot of Mexican dinners and breakfasts. We're probably eating some kind of Mexican food four days a week at this point. But it's making me so happy! Join me in eating my poblano mushroom tostadas.
There are a lot of steps in this dish, but trust me, it's so worth it. First, start by fire-roasting the poblanos on the stove. I highly recommend opening a window while you do to prevent any smoke from building up in the kitchen. I also recommend using metal tongs to avoid burning yourself. Safety first friends!
When you're roasting the poblanos, you basically want to blacken them as much of them as you can. Once each is done being roasted, place them in a large bowl and place another bowl on top of it to create a dome or use a plate. You want to create a steam bath for the peppers. Set them aside in their steam bath until you begin cooking the mushrooms. Then, peel and slice them into ribbons. The skin will fall right off while you gently peel the char off with a spoon.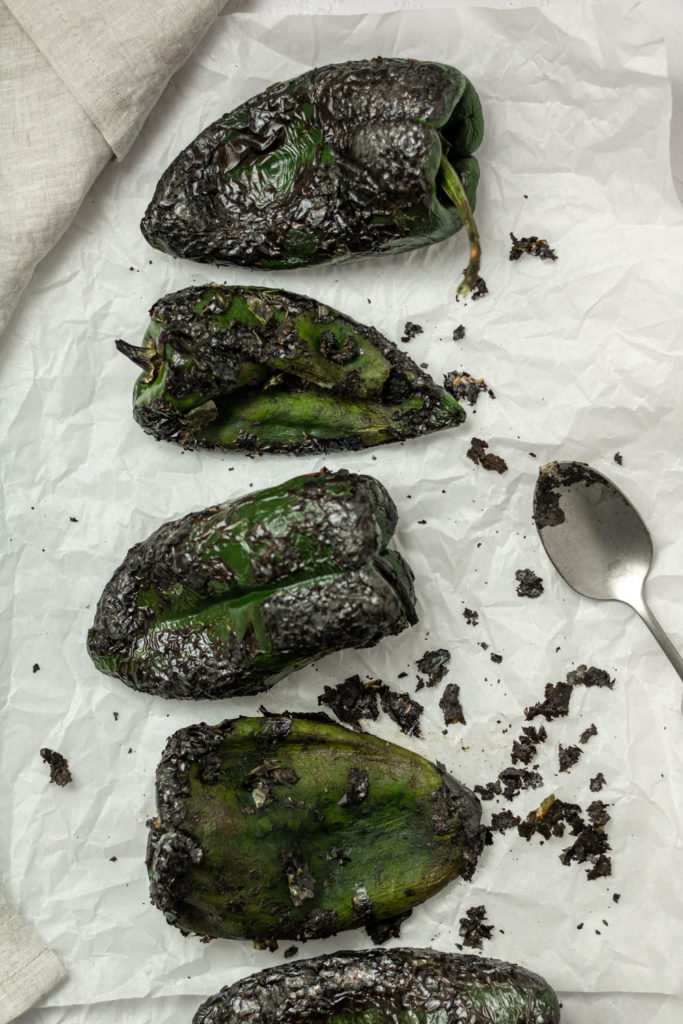 Next, begin cooking your onions, then mushrooms. Then add the garlic, cilantro, and ribboned poblanos. Once the poblanos are heated through, add the fresh lime juice. Keep on the heat for one minute, stirring in the lime juice, then turn off the heat. The poblano mushroom mixture is ready! You could also use this mixture as a filling for burritos, in tacos, or served with eggs. It's so good!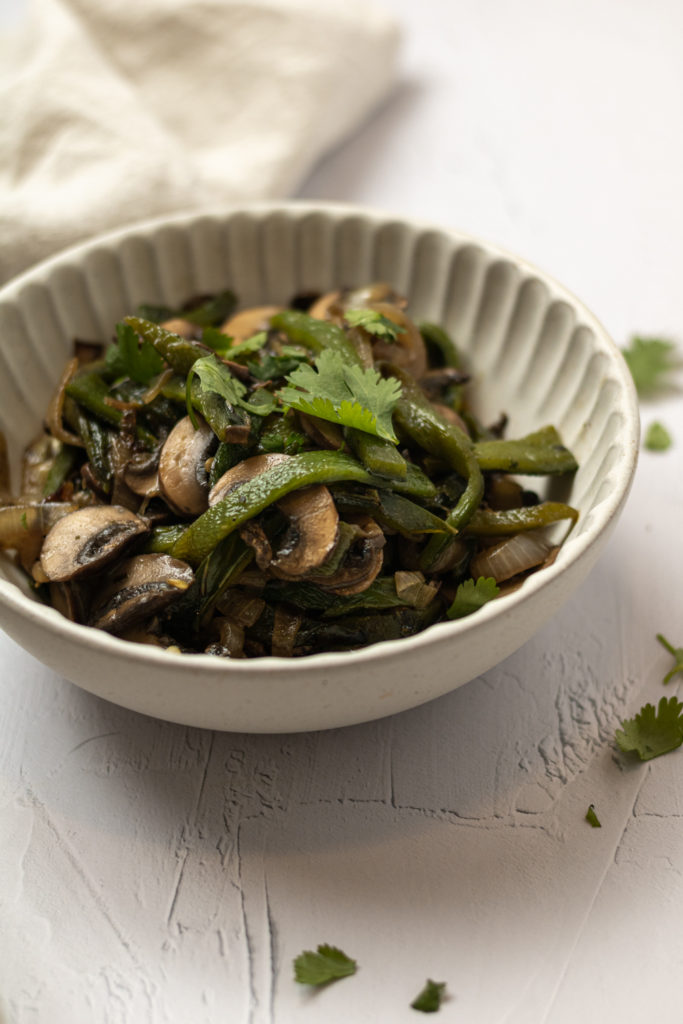 To build your tostadas, start by frying your corn tortillas one at a time in vegetable oil. While you're frying your tortillas, begin heating your refried black beans in a pot. Layer the tostada shells with refried black beans, followed by the poblano mushrooms, then top with chopped cilantro and cotija. Serve alongside spicy Mexican rice for the perfect dinner.
Poblano Mushroom Tostadas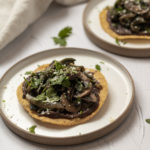 Print This
Ingredients
5 poblano peppers, fire-roasted then sliced into ribbons

2 tbsp unsalted butter

1 large yellow onion, thinly sliced

1 1/2 lb crimini mushrooms, sliced

2 garlic cloves, minced

1 1/2 tbsp cilantro, chopped, additional for garnish

1/2 large lime, freshly juiced

6 corn tortillas, fried in vegetable oil

1 can of refried black beans

cotija, for garnish
Instructions
Begin by roasting the whole poblanos over the flames on the stove. Make sure that you open a window, it can get smokey. Make sure to roast each side of the poblanos, ensuring that they're blackened. For safety, use metal tongs to rotate them. Place the poblanos in a large bowl and cover with another bowl to allow them to sweat. Set aside.
Preheat a large castiron skillet, or non-stick skillet, over medium heat. Add the unsalted butter and allow it to melt. Add the onion. Stirring occasionally, cook the onions for roughly 10 minutes. Add the mushrooms. Continue to cook, stirring occasionally for 5 minutes. Add salt and pepper to taste. Cook for an additional 5-8 minutes.
While the mushrooms are cooking, peel the poblanos. To peel, use a spoon and gently scrape the skins off. They should peel right off because of the steam. Cut the tops off of the poblanos and continue to slice them into ribbons, making sure to remove the seeds. Set aside.
 Once the mushrooms are tender, add the minced garlic. Cook for 1 minute. Add the ribboned poblanos and heat thoroughly. Add the cilantro and freshly squeezed lime juice. Allow it to cook for 1 minute then turn off the heat. The mixture will stay warm from the residual heat of the cast iron.
In a pre-heated pan, add a small layer of vegetable oil. Once the oil is hot, add the corn tortillas, one at a time, and cook until hardened into tostada shells. This will take roughly a minute for each one. Make sure to flip the tortilla every 15 seconds to ensure a flat saucer-like tostada.
Meanwhile, heat the refried black beans in a pot. Once warmed through, assemble your tostadas. 
Take a large spoonful of refried black beans and spread it over a tostada. Then add the mushroom poblano mixture over the black beans. Sprinkle with additional chopped cilantro and cotija.  
Enjoy!