It's that time of year again…all things pumpkin. And I'm so ready for it. I am one of those girls who loves pumpkin everything. Pumpkin spice lattes, pumpkin bread, pumpkin ravioli, pumpkin beer, pumpkin spice candles, I like it all. This was my first pumpkin bake of the season, a pumpkin stout spice bread.
Each year my dad and I buy quite a bit of pumpkin beer. We usually drink it all, but sometimes a warm San Diego fall means we have one or two leftover sitting in the fridge with the next fall. When my dad saw we had an extra Elysian Punkuccino he suggested I try using. I had recently found a hundred-year-old german coffee cake recipe that I was wanting to try. I thought why not add my own spin to it!
Although I used Elysian Punkuccino, you could use any pumpkin stout. The more spiced, the more pumpkin spice flavored the bread will be. I like the coffee flavor the pumpkin coffee stout gave the bread, but I also love coffee.
The bread takes a long time to bake, but baking it low and slow is the way to go. It helps the bread bake through without burning the top. If you need a shorter bake time, use multiple loaf pans, and add less batter to the pan. Greasing the pan is also key to ensure it doesn't stick to the pan. Traditionally German coffee cakes are made in a bundt-like pan and sprinkled with powdered sugar. I didn't have a bundt pan, so I opted for the loaf pan. Use what pan you have, just adjust the bake time as needed.
It's best to have the pumpkin stout spice bread sit twelve hours before slicing because the bread texture is a soft crumble. But let's be honest, who can really let any fresh bake sit that long, especially when it smells so good. I sliced right into it after letting it cool half an hour. It definitely broke apart, but the taste was amazing. It sliced better once sitting for much longer. Either way, this bread is delicious and full of pumpkin spice flavor.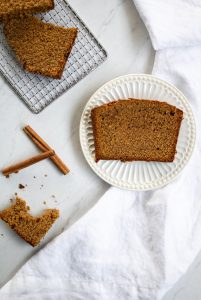 Pumpkin Coffee Stout Loaf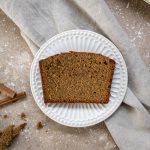 Print This
Ingredients
1 cup butter, softened

2 cup dark brown sugar

3 eggs

3 cups flour

1 1/2 tsp baking powder

1 tsp cinnamon

1/2 tsp ground clove

1/2 tsp allspice

2 cup pumpkin coffee stout beer, or pumpkin stout beer (I used Elysian Punkuccino)
Instructions
Preheat the oven to 350.
Using a hand mixer, cream together butter and brown sugar.  One at a time, add the eggs. Mix them well after each. Set aside.
In a separate bowl and using a wooden spoon, mix the flour, baking powder, cinnamon, ground clove, and allspice.
One cup at a time, add the flour to the creamed butter and sugar mixture along with a cup of beer. Mix together until combined.
Grease a large loaf pan with butter and flour. Pour the mixture into the loaf pan and place in the oven for roughly 80 to 100 minutes. Test the doneness of the loaf cake using a cake tester after 80 minutes to determine if it needs longer in the oven. Let it sit in the pan for 10 minutes before turning it out onto a cooling rack. Wrap with foil and allow it to sit for 24 hours before slicing to serve.