Ginger, good. Turmeric, good. Honey, good. Why not mix them all together to make the best syrup for cocktails; a ginger turmeric honey syrup?!
I was first inspired to make a ginger turmeric honey syrup of my own after reading a magazine recipe clipping my mom gave me.  Thanks mom for the inspiration! She knew I would love the cocktail recipe since it's an elevated spin on one of my favorites with the addition of ginger and turmeric.
I first fell in love with fresh ginger in pipping hot water while in Berlin last year. Not only did I order ginger tea everywhere we went but made it back at our Airbnb to stay warm during Berlin's cold February. Turns out, they don't use tea packets as we do in the United States. Many of the places in Berlin only used fresh ginger or fresh mint when making ginger or mint teas. If you ever find yourself in Berlin, order a ginger mint tea. It's amazing.
Anyways, this syrup is made using freshly peeled and cut ginger and turmeric. These fragrant spices make me think of fall, especially while simmering away in the honey. And when I use honey in any recipe, I always use Local Hive. And no, this isn't an ad, I just really like this honey. The So Cal variety worked perfectly for the syrup. 
This ginger turmeric honey syrup is great as a tea substitute, simply add to hot water and add a slice of lemon. My favorite way to use this syrup though is in a hot toddy! It's a game-changer. Find the recipe here. And since I'm loving this syrup so much right now, I'm testing it in a few other recipes. Stay tuned!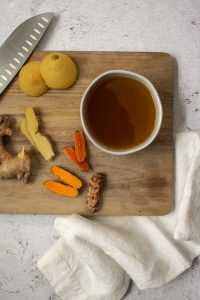 Ginger Turmeric Honey Syrup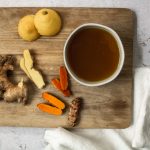 Print This
Ingredients
8 oz hot water

8 oz raw honey

1/8 lb fresh ginger, peeled and diced

1 1/2 tbsp fresh turmeric, peeled and diced
Instructions
Using a spoon, peel the ginger and turmeric. Roughly dice them then add to a food processor, grind briefly. Set aside.
Pour hot water and honey into a saucepan. Add the ground ginger and turmeric to the mixture.
Over low heat and stirring often, cook' the mixture for 10 minutes.
Remove the ginger turmeric honey syrup from the heat and allow it to cool for 1 hour.
Strain to remove the ginger and turmeric pieces from the syrup.
Store the syrup in an airtight container in the fridge for a week or two.