I love a big hot bowl of soup on a chilly day. It instantly warms me up, filling my belly with all its goodness. And this curry rice soup has that and a little extra kick of spice.
Confession time, this soup was created by accident during lunch one day. I had extra broth from leftover vegetable broth and curry rice from dinner the night before. Since I despise throwing out food, I decided to mix the two together for a hodgepodge soup of sort. The outcome, deliciousness. I really liked the addition of Thai curry spices in the broth, elevating traditional vegetable soup into something special.
Because of its origin, curry rice soup is a two-step process. I start by making the curry rice, which is made of brown rice, Panang curry paste, coconut milk, and water. While it's simmering away, I made my curry vegetable broth. The broth has onion, brussel sprouts, carrots, mini sweet peppers, and carrots. It's a combination of vegetables currently in season and those traditionally seen in curry.
Although I don't include it in this base recipe, adding green lentils or curry roasted chicken thighs would make protein-packed additions to the curry rice soup. I kept it simple with rice and vegetables the other day, but am looking forward to trying it with some curry roasted chicken thighs next time. The curry rice soup base is delicious on its own though, so no need to add those additions if you don't want to!
When serving curry rice soup, I recommend scooping a half cup of curry rice into a bowl and then ladling the vegetables and broth over the rice. To ensure the rice doesn't turn soggy, I also store the curry rice and vegetable curry broth separately in the fridge when there are leftovers.  This keeps the structure of the rice since it's not soaking in the broth for hours.
Hope you love this recipe as much as I do, it's my new favorite soup!
Curry Rice Soup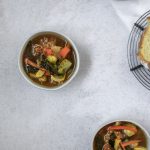 Print This
Ingredients
1 ½ cup uncooked brown rice

1 can coconut milk, whole fat preferred

2 tbsp curry paste, plus an additional 1 tsp, I use Thai Home Panang Curry Paste

1/3 cup water

1 tbsp avocado oil

½ white onion, diced

1 lb brussel sprouts, cut in half or fourths depending on how large they are

6 mini sweet peppers, sliced into strips

4 small carrots, peeled and sliced into discs

½ cup dino kale, sliced into strips

10 cups water

½ tsp vegetable bouillon, I used Better Than Bouillon vegetable base
Instructions
In a rice cooker, mix uncooked brown rice, coconut milk, water, and Panang curry paste until the curry paste is fully mixed into the liquid. Set timer to the brown rice setting and set aside. (This can also be done on the stovetop. Mix all the ingredients the same and cook per rice's cooking instructions.)
While the curry rice is cooking, begin on your curry vegetable broth.