Figs symbolize the beginning of fall for me. It's when the summer produce begins to fade that the figs are at their peak. I love this time of year. It's a mix of two seasons, the best of both summer and fall. And although a part of me still holds onto summer, I crave the cozy warmth of fall. I want spiced cakes, cloudy skies, and my figgy coffee cake muffins.
Coffee cake muffins are my way of using up just about to turn fruit, allowing the sugars to sweeten the batter naturally. And I think muffins are more fun to serve than a single cake, so I tend to lean towards muffins when it comes to a brunch sweet. Using figs automatically adds to the taste of fall. I add extra cinnamon to the batter too, leaning into the cozy weather right around the corner.
Figgy coffee cake muffins are best served warm with a cup of coffee. And since these muffins are fast to whip up, it's easy to make in time for breakfast. This recipe is also a smaller recipe, making 6 muffins. This was the perfect size for my house, but the recipe can easily be doubled if you want. And if you prefer to bake it all at once, add all the layers to a square baking pan and bake until a cake tester runs clean.
To get more of that figgy flavor into the cake itself, slightly push the figs into the batter before adding the crumble on top. This also ensures you don't lose any figs post-bake and the muffins separating where the fruit meets the cake. It also adds some extra moisture and sweetness to the cake. If you're looking for a sweet and sugary coffee cake, try my chocolate chip coffee cake.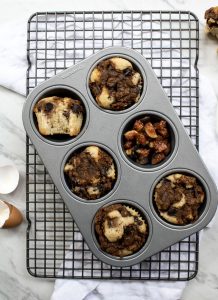 Figgy Coffee Cake Muffins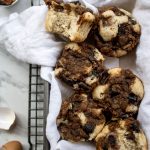 Print This
Ingredients
1 1/2 cups fresh figs

1/4 cup unsalted butter, softened

1/2 cup sugar

1 egg

1 cup flour

1 tsp baking powder

1/2 tsp salt

1/3 cup whole milk

1/4 tsp vanilla

2 tsp cinnamon

Topping-

1/4 cup butter, softened

1/2 cup brown sugar

1/3 cup flour

1/2 tsp cinnamon

1/4 tsp nutmeg
Instructions
Preheat the oven to 350 degrees.
Using a hand mixer, cream together butter, sugar, and egg. Gently mix in the flour, baking powder, cinnamon, and salt with a wooden spoon until just combined. Add in the milk and vanilla and continue to mix until fully combined. Evenly add the batter into six muffin paper liners in a muffin pan. Set aside.
Dice figs into small bits. Distribute the diced figs over the batter. Gently press into the batter itself.
Using a clean hand mixer, mix topping ingredients until it comes together as a crumbled topping. Sprinkle topping mixture over the figs until just covered. You can even leave gaps exposing the muffin batter. (Don't worry, there will be leftover topping mixture. Save it for the next batch of figgy coffee cake muffins.)
Place muffins in the oven and bake for 25-30 minutes.