Zucchinis are a favorite vegetable of mine in the summer. But as the summer days turn into fall I gravitate towards turnips, root vegetables, and everything pumpkin. So as the seasons begin to change, I tend to have some extra zucchini and need to get creative. My solution; chocolate chip zucchini muffins.
I began looking for ideas online and although most of the recipes were savory, I found a recipe for chocolate zucchini bread. I had never had chocolate zucchini bread before. Growing up I ate mom's pumpkin and banana bread as our sweet bread options. The new recipe piqued my interest.   
For anyone who knows me, knows I love chocolate. And not just chocolate, but dark chocolate. It's rich, decadent, and the perfect antioxidant pick-me-up. So why not add zucchini to chocolate. Zucchini has such a mild flavor that it can typically be covered by what it's paired with. With its high water content, it could somewhat be a liquid component in a bread. Zucchini is high in vitamin C with levels of vitamin B-6, magnesium, potassium, and fiber.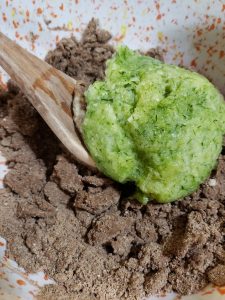 So I decided to combine a few recipes and made it a little healthier with the addition of protein powder and less sugar. But I couldn't eliminate the chocolate chips, those are just too good. Especially the pure, no dairy dark chocolate variety. After a couple of batches and a couple of tweaks, I changed the bread for muffins and the dairy was substituted by plant-based products.  
Warning, don't be shocked by how dry the dough is when first combining the dry and wet ingredients. Everything changes once the zucchini is added. Now I've shredded the zucchini using a standard cheese grater, but have also used a large mandolin. Although both work well, I prefer using the standard cheese grater. The cheese grater creates larger zucchini pieces and a little extra texture to the muffins.  
I typically have these for breakfast, a sweet mid-morning snack, or to cure a late-night chocolate craving. If there's still some leftover a couple of days, I'll throw them in the freezer and reheat a muffin or two when I'm ready. They're best reheated in a toaster oven. I hope you enjoy these chocolatey healthy chocolate chip zucchini muffins!   
Chocolate Chip Zucchini Muffins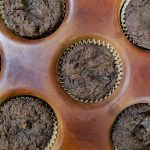 Print This
Ingredients
1 cup almond flour

1/2 cup chocolate protein (I use the Amazing Grass Rich Chocolate)

1 1/2 tsp baking soda

3 Tbsp dark brown sugar

1/8 tsp salt

1 cup zucchini, grated

1 egg

1 tsp red wine vinegar

1/4 cup plain yogurt (I used a plant-based variety)

1/4 cup coconut oil, melted

1 tsp vanilla extract

1 cup dark chocolate chips (in a pinch I used 2 chocolate chip batons and cut them up)
Instructions
Preheat oven to 370 degrees Fahrenheit.
Grate the zucchini and set aside. 
With the zucchini and chocolate chips aside, mix the wet ingredients together. 
Mix the dry ingredients together, except the protein powder. Once mixed, add the protein powder and gently mix until just combined. (The less mixing of the protein powder the less dense the muffin will be.)
Slowly add the wet ingredients and mix until just combined. 
Add the zucchini and mix until it's all incorporated. Then do the same with the chocolate chips. 
Line a muffin stone with muffin cups. I use the PaperChef Parchment Baking Cups because of they're non-stick, but their packaging is made from 100% recycled cardboard. And although they suggest not reusing them, I often do. 
Bake for 35-45 minutes, or until a stick comes out clean of batter. Let the muffins sit for a few moments to cool before eating since the chocolate chips can feel like melting lava in your mouth straight out of the oven. 
Store remaining muffins in the freezer after two days to ensure they stay fresh.