While camping, you sometimes have to get creative with what you eat.
This is especially true for me since I prefer to eat less meat while camping. I'm not sure if it's my concern about it being fully cooked or the fact that I feel less heavy with less meat in my system. Regardless, that's why I try to find alternative protein sources while camping. Garbanzo beans are a great source of protein and fiber, which is why I always carry dry garbanzo beans with me while car camping.
Recently we were in a very remote area camping with only a few ingredients left. We hadn't grocery shopped in a while and were an hour away from any grocery store. This meant it was time to get creative! Instead of being worried about not having a meat-sourced protein to go with our spaghetti, we opted for the garbanzo beans. I prefer dried garbanzo beans so I can monitor the amount of salt added and eliminate preservatives added to canned goods.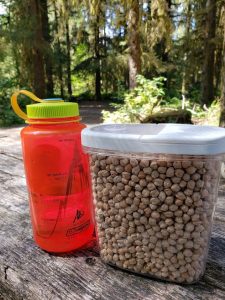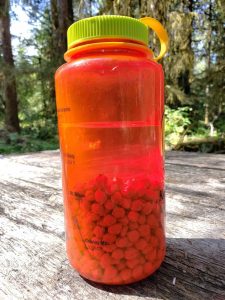 Because I ensure that we have dried beans with us, that also means that I need to ensure we have a soaking vessel. Our soaking vessel is usually a Nalgene water bottle. When we soak and cook beans, I opt for a double serving. That way we only cook dried beans once over a couple of days, saving time and propane. When soaking garbanzo beans, make sure to add double or triple the amount of water to bean ratio. So if I'm soaking 1 cup of beans, I'll add 2-3 cups of water.  I soaked this batch for 4 hours in the cool Washington sunshine before boiling them. It would be better to soak them overnight though, so if you remember, I suggest giving them 24 hours!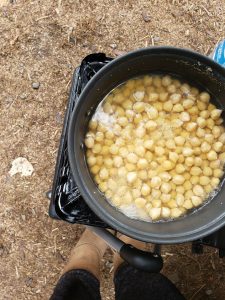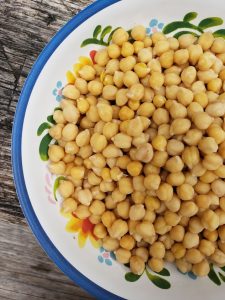 Boil the garbanzo beans for roughly 30-45 minutes, until tender.  Personally, I like them a tad firm, especially in pasta when they're the most textured element. We carry a large propane tank and have a very efficient camp stove, so we're able to do longer boils. When you're out on the road for long periods of time, this is necessary. It makes such a big difference and has changed what I'm able to cook while out on the road.
After boiling the beans, the garbanzo spaghetti begins coming to life. Boil the pasta until al dente, drain, then pour the beans back into the pot with pasta sauce. Top the noodles with the garbanzo spaghetti sauce and enjoy! When I'm not making my own spaghetti sauce, I choose a low sugar option from the grocery store. Add a little herbed goat cheese on tip for that special touch. I highly recommend it!
Garbanzo Spaghetti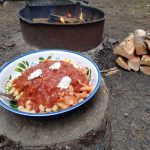 Print This
Ingredients
1 cup dried garbanzo beans

4-5 cups of water

1 large jar or low-sugar spaghetti sauce

1 cup of dried pasta

(optional - a dab of herbed goat cheese)
Instructions
Begin by soaking 1 cup of garbanzo beans in 2-3 cups of water for 4 hours. (I often use my Nalgene bottle as my soaking vessel so that I can easily measure the amount of beans and water used, but also because I can seal the bottle up while camping.)
After the beans are at least doubled in size, drain beans. Place beans into a boiling pot. Add enough water to cover the beans at least an inch. Boil the garbanzo beans for roughly 45 minutes or until desired tenderness. Set beans aside.
Cook pasta until al dante following the directions of the pasta itself. Set aside.
Heat up spaghetti sauce. Once warmed, add in the pasta and stir until pasta is completely coated with sauce.
Add in the garbanzo beans and mix all together. Add remaining spaghetti sauce on top for an extra saucy dish. For richness, add some herbed goat cheese on top before serving.