I'm a firm believer in relaxation and giving your body the downtime it needs.
My best friend booked us a girls' weekend to Catalina and I knew that's exactly what we'd be getting, relaxation. I had heard of the beautiful ocean blue views, quaint town shops, and the island's 'Buffalo Milk'. I wasn't quite sure what the 'Buffalo Milk' was yet, but I knew I would have to try it.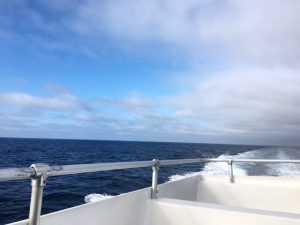 Before the fun could begin, we had to make it through the ferry ride to the island. I had never been on a boat without getting seasick, so I was pretty nervous. There must have been something magical about that boat though, to my surprise I didn't get seasick. I loved the ocean views paired with the crisp ocean air on my face. The adventurer in me felt a surge of adrenaline when we couldn't see any land in sight, feeling like we were on a voyage to find new land.
Our first full day on the island included a trip to Descanso Beach Club for some beachfront lounging and a cocktail or two.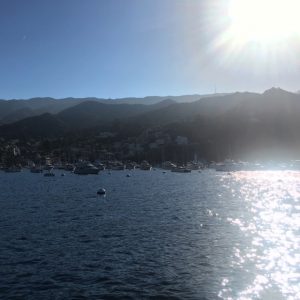 It was a cloudy breezy day on the island so we wrapped ourselves in several towels and were thankful to have a sweater. Regardless of the weather, I knew I had to order the chilled 'Buffalo Milk'. The cup filled with vodka, coffee and banana liquor, and creme de cacao. A blended drink of deliciousness! It was well balanced without being too sweet, especially with the dash of nutmeg on top. Such a fun icy boozy treat!
When it was Monday morning and time to get back to reality, I was craving my weekend treat. I knew I had to find a way to make a healthy non-boozy alternative for my morning smoothie. My alternative tasted rich in coffee using Stumptown cold brew, banana, nutmeg, with a scoop of vegan protein.
The banana adds fiber, manganese, vitamin B6 and C, and potassium. Potassium is important for regulating sodium, water, and acid-base within the body. It also helps to make bananas a natural electrolyte. The nutmeg in the smoothie promotes the body's natural detoxification, aiding in the treatment of acne. This smoothie is great for those lactose-intolerant and vegan, with the use of almond milk and my favorite vegan protein powder, Amazing Grass.
Buffalo Milk Morning Smoothie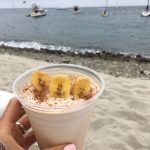 Print This
Ingredients
1 frozen banana

1/3 cup Stumptown Coffee cold brew

2/3 cup unsweetened almond milk

1 scoop Amazinggrass rich chocolate protein

1 tsp cocoa nibs

1/2 cup ice

1/2 tsp nutmeg

For optional topping -

banana chips

cocoa nibs

nutmeg
Instructions
Add all ingredients in the blender and blend until smooth and combined. Top with the optional banana chips, cocoa nibs, and sprinkle with nutmeg.