Pizza is happy food. It just is. And when you can make it all at home from scratch, it's even better. Especially homemade classic pizza dough.
Making pizza dough from scratch started when Tim was craving pizza for lunch, and craving hard. We didn't want to deal with heading out of the house, so we decided to make our own. We had all of the right toppings. One problem though, we didn't have any pizza dough. But we weren't willing to let that stop us. I started doing a little research and decided to take a crack at making my own version of classic pizza dough. It was a hit! I'll never use store-bought pizza dough again, especially when it's this easy to make.
The first batch was pretty good but a little sweet. So, I went back to the drawing board. I adjusted some ratios, tested, then tried again. We've had several pizzas over the last two weeks and no one has been complaining in our house. I think everyone's enjoying Monday pizza night. And for an extra tasty kick on your pizza, try adding my Kale Basil Pesto as the base layer instead of classic marinara.
The pizza dough is filled with olive oil, adding a delicate olive oil taste throughout and into each bite of pizza. It also doesn't require proofing so it's useable right after making it. Although not required, you can allow it to prove if you want. Proofing the pizza dough for roughly 10-15 minutes will create an even lighter airy baked crust.
I use the BBQ to cook pizza because I can get it extra hot and it cooks in a flash. Plus it helps with the slightly crunchy outer crust while keeping the dough inside airy and soft. But if you don't have a BBQ or a pizza stone for your grill, you can cook it in the oven. It will just take a bit longer.  Directions on how to cook the dough in the oven are notated at the end of the recipe. And even though it takes a little more time, don't let that stop you from having delicious homemade pizza!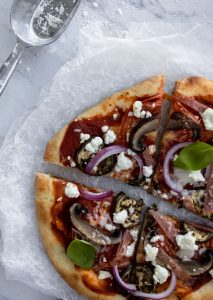 Classic Pizza Dough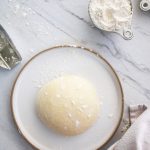 Print This
Ingredients
3 cups water, warmed to 105-110 degrees

3 tbsp active dry yeast

2 tbsp sugar

3 tsp kosher salt

5 tbsp olive oil

6 1/2 cups all-purpose flour
Instructions
Heat water to 105-110 degrees. Add to a kitchen stand mixer.
Add water, yeast, and sugar to the stand mixer bowl and allow to sit for 5-10 minutes or until the yeast begins to activate. It should look bubbly and foamy.
Next, add the olive, oil, salt, and 2 cups of flour. Using the dough hook, stir on low until just combined.
Add additional cups of flour, one at a time, and mix until just combined. After all of the flour is added, continue to stir on low for three minutes.
The dough is ready to use!
Heat BBQ on high until 600degrees and place BBQ safe pizza stone on the grill.
Evenly distribute dough into 6 pieces. Place each piece on parchment paper.
Shape dough pieces into the shape of a pizza crust, using your hands or a rolling pin. Cut the extra parchment paper from around the pizza crust dough.
One at a time, par-bake pizza on the pizza stone. Close BBQ lid and cook for 5-7 minutes, until just cooked through.
Top pizza dough with your favorite toppings and place it back on the grill for an additional 3 minutes.
Enjoy!
** You can half this recipe to make 4 personal pizzas!
**You can also use this dough in the oven. Preheat your oven to the highest temperature before making the dough. Par-bake the pizza dough for 10-15 minutes or until cooked through. Top with your favorite toppings and cook for an additional 5-10 minutes.