Tell me a better morning than waking up to the smell of freshly baked cinnamon rolls. Now let's fill them with pumpkin puree and pumpkin spice. Those flavors, especially on a cold fall morning, that's perfection.
I make freshly baked cinnamon rolls at least once a month on lazy weekend mornings. It makes that morning just a little more special and a little cozier. So when it turned to fall this year, I wanted to create a pumpkin version to fill my pumpkin spice dreams. It's taken me some time to perfect this recipe, but I wanted each component of the recipe to be just right.
These pumpkin spice cinnamon rolls are filled with classic pumpkin spice flavor and pumpkin puree. The puree and spices create an ooey-gooey filling, making it feel like pumpkin pie. Cinnamon roll and pumpkin pie all in one for breakfast, yes, please.
There are two ways to make these pumpkin spice cinnamon rolls. You can either make them from start to finish in one go or you can make them the night before and then pop them in the freezer before the second proof. If I have a busier morning, I prefer to make them the night before then take them out of the freezer right when I wake up to let them thaw. Depending on the weather outside though, this can take some time. 
If you don't have pumpkin spice in your pantry, don't worry, you can still make these. You can make your own pumpkin spice using common baking spices in your pantry from this AllRecipes recipe. You also don't have to make the frosting if you don't like it! I prefer my cinnamon rolls without frosting, but my husband loves the extra sweet tang it adds. Whatever way you like them, make these for Thanksgiving morning and they may just become your new fall favorite. 
Pumpkin Spice Cinnamon Rolls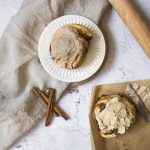 Print This
Ingredients
For the Dough -

3/4 cup whole milk, warmed

2 1/4 tsp active dry yeast

1/4 cup granulated sugar

1 egg and 1 egg yolk

1/4 cup unsalted butter, melted

3 cups bread flour

3/4 tsp salt

1 tsp pumpkin spice

For the Filling -

3 tbsp unsalted butter, softened

1/4 cup pumpkin puree

1 tsp cinnamon

2 tsp pumpkin spice seasoning

3/4 cup dark brown sugar

For the Frosting -

4 oz cream cheese, softened

3 tbsp unsalted butter, softened

3/4 cup powdered sugar

1 1/2 - 2 tsp pumpkin spice
Instructions
Start by warming up the milk. I do this either on the stove or by quickly heating it up in the microwave for 40 seconds. Pour the milk into a stand mixer and sprinkle the yeast on top of it. Let the yeast activate for 5 minutes.
Add the sugar, egg, egg yolk, and butter. Using a whisk, whisk until egg yolks are broken up and distributed throughout the liquid.
Add the flour, salt, and pumpkin spice. With the attached dough hook on the stand mixer, mix the dough for 8 minutes on low speed then 2 minutes on medium speed. You're welcome to hand knead the dough as well, but this works just fine!
Cover the dough using a beeswax food wrap, the one I use is linked here.  Let the dough rise until doubled in size, roughly an hour. This will differ depending on the temperature; dough will rise quicker on hot humid days and slower on cold dry days.
After it's doubled in size, place the dough on a silicone pastry mat. The one I use is linked here.  Using a rolling pin, roll out the dough to make a rectangle, roughly 14×9 inches. Spread the softened butter then pumpkin puree over the dough, leaving a 1/4 inch margin along the edges. Mix together the brown sugar, cinnamon, and pumpkin spice in a small bowl then sprinkle it over the butter and pumpkin puree, covering it entirely and evenly.
Starting with the shorter side, tightly roll the dough until you create a log. Place the seam side down and cut cinnamon rolls an inch wide using a dough cutter. The two ends may not be filled with much filling, so feel free to discard.
Grease a 9×9 glass round baking dish with butter or use a large seasoned cast iron (cast iron will require additional baking time). Place the cinnamon rolls in the baking dish, leaving roughly half an inch between each to allow space to rise. Cover with beeswax food wrap again and allow the dough to rise for an additional 30 minutes. (If you're freezing the cinnamon rolls to use for later, place them in the freezer before the second rise.)
Preheat the oven to 350 degrees.
After rising for 30 minutes, remove the beeswax and place the pumpkin spice cinnamon rolls in the oven. Bake for 22-25 minutes. They should look slightly golden brown on the edges when they're ready to take out of the oven. Allow them to cool for 10 minutes.
While they're cooling, make the frosting. Using a hand mixer, whip together the cream cheese, butter, powdered sugar, and pumpkin spice until smooth.
Spread the frosting over the pumpkin spice cinnamon rolls and serve warm!