So all of a sudden I had a burst of energy last night. And as any normal person would do, I decided it was a good time to start bake. Now, I've been trying all sorts of baked goods with tahini but nothing has turned out the way I had planned. Except for this. These tahini scones are amazing. Thank goodness for late night inspired baking.
What I love about tahini is the subtle nuttiness it has. It's creamy and delicate in flavor. But the tahini you buy completely determines this. Make sure to read the label. The best tahini is that made from only sesame seeds. My favorite tahini, linked here, is made from only organic sesame seeds. It's creamy, beautifully flavored, and not overpriced. It's perfection in these scones as well as in my hummus.
These tahini scones are a combination of subtle nuttiness and sweetness. Topped with a sprinkle of turbinado sugar for that extra sugar crunch and sesame seeds to drive home that sesame nuttiness. Plus, the combination makes for a beautifully presented scone.
Something to note when making scones. Make sure not to overwork the dough. You only want to mix the wet and dry ingredients until they've just come together. Then, lay the dough out onto a pastry mat. Knead the dough three to four times until the dough has finished coming together. Anything more than that can result in a tough scones. You, and everyone else, wants a light and airy tahini scone.
Tahini Scones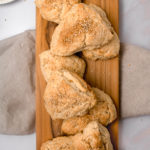 Print This
Ingredients
2 cups all-purpose flour

1/2 cup dark brown sugar

1 tbsp baking powder

1/2 tp salt

1/2 cup unsalted butter, chilled

3/4 cup buttermilk

1 egg

4 tbsp tahini

1 tbsp unsalted butter, melted

sesame seeds - for topping

turbinado sugar -for topping
Instructions
Preheat oven to 375F.
In a large bowl, mix together flour, sugar, baking powder, and salt.
Cut the chilled butter in half longways, turn 90 degrees, then half longways again, giving you 4 long sticks. Dice the sticks, giving you 1/4 inch butter squares. Add into the flour mixture. Using your hands, break the butter down while mixing it into the flour until crumbly.
In a separate bowl, whisk together the buttermilk, egg, and tahini. Add the wet ingredients to the dry ingredients and mix gently with a wooden spoon until just combined.
Remove the dough from the bowl and place it on a lightly floured pastry mat. Gently knead three to four times. Make sure to not overwork.
Divide the dough in half. Gently shape each half into a circle. Cut each circle into six pieces, similar to that of cutting a pie.
Place the 12 pieces onto a parchment-lined baking pan. Bake for 20 minutes.
Using melted butter, gently brush butter on the top of each scone and sprinkle with turbinado sugar and sesame seeds. Place the scones back in the oven and cook for an additional 5 minutes or until golden brown.
Remove from the oven and allow to cool for 5 minutes.
Serve warm and enjoy!