Have you ever had pickled red onions?
The first time I had pickled red onions was over a pork taco at a farmers market in San Diego. That first bite, man was it good. They're so tangy yet still hold some of their trademark spice. Pairing the tangy pickled red onion with the salty meat was the perfect balance. Since then, I have added these onions to other tacos and over nachos. My latest addiction though, adding them to avocado toast.
Pickled red onions not only have an amazing tanginess to them, but they provide a fresh element to a dish. For example, on my avocado toast. The avocado is buttery and fatty, the egg is savory and rich, while the pickled red onions bring a bright and fresh element to round it all out. Plus, if you're anything like me, you'll love the acidic punch these provide.
When it comes to storing the red onions and allowing them to pickle, I used a large glass pyrex container with an airtight lid. I have seen several people use mason jars, which would work as well. Just make sure the container is glass due to the high acidic level. Also, these can be eaten after an hour of pickling, but for the best flavor, I recommend allowing the red onions to pickle overnight. This allows the vinegar and flavor of the garlic to penetrate the onions.
Another beautiful thing of pickled red onions is the color it produces. While the red onions pickle, they release more of their red and purple coloring, creating a beautifully colored product. The pickled juice will be bright in color as well as the pickled red onions. They look almost fluorescent pink.
These can sit in the fridge and continue to pickle for roughly a week or two. You can reuse the pickling liquid for a second batch as well, but the garlic flavor may not be as strong. Because of this, I like to either add in new garlic or make a fresh pickling liquid for each batch.
Pickled Red Onions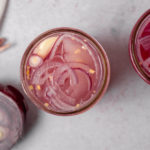 Print This
Ingredients
1 large red onion, thinly sliced

3 garlic cloves, peeled

1 cup distilled white vinegar

1 cup water

2 1/2 tbsp sugar

2 tbsp kosher salt
Instructions
Thinly slice the large red onion. Place the slices in a large glass container. Peel the garlic and add it to the glass container as well. Set aside.
In a small saucepan, over medium heat, add the vinegar, water, sugar, and salt. Stir together until the sugar and salt dissolve, roughly a minute or two.  Turn off the heat and allow it to cool. 
Once cooled. Pour the pickling liquid over the red onions and garlic. Cover the container and put it in the fridge.
Allow it to sit for at least one hour, but best if it sits overnight.