I love a good margarita. They're what my parents would always order at restaurants or have at family BBQs. It was the very first alcoholic drink I ordered when I turned twenty-one. And today it's no different. I love a good acidic margarita with a plate of tacos! My most recent favorite, this spiced mango margarita.
This margarita gets its name from the amount of mango in it. The main ingredient is fresh mango cubed and then frozen overnight. I find the mango flavor is stronger this way rather than the store-bought frozen variety. But if you need to use store-bought frozen mangos, do it. To add a little extra sweetness I also add homemade simple syrup. Simple syrup is easy enough to make that during the warm months, in preparation for cocktails and lemonade, I have a batch in the fridge. Simple syrup is equal parts sugar and water, boiled down until the sugar is dissolved. It stores in the fridge for a week or two in an airtight container.
To add that citrus bite we all search for in a margarita, there's fresh lime juice as well. And for that smokey bite, I like using mezcal for this spiced mango margarita. It's really good with tequila though as well if mezcal isn't your thing.
Another element that makes this margarita so delicious is the spiced rim. My favorite taco shop in San Diego serves the most delicious spiced rim beers and now I crave it all the time. To make the spiced rim, take chamoy syrup and add sugar to make it sweet. Dunk your cup in the sweet chamoy mixture then into spicy tajin. It's an addictive spicy salty-sweet that I can't get enough of.
To make the spiced mango margarita, add the mango, simple syrup, lime juice, and water to a blender. Blend together until almost smooth. Add the shot of mezcal or tequila. If you want it a bit more icey, add some ice. Serve into your spicy rimmed glasses alongside a bowl of roasted tomatillo salsa and enjoy! Extra points if you're sitting by the pool.
Spiced Mango Margarita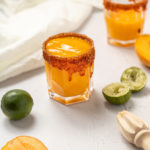 Print This
Ingredients
1/3 cup chamoy syrup

1/4 cup sugar

tajin

1 fresh mango, sliced, or 1 cup frozen mango

3 tbsp simple syrup (see below)

1 lime, freshly juiced

1 cup water

1 shot of mezcal or tequila
Instructions
Begin by making your simple syrup. In a pot, boil 1 cup of water with 1 cup of sugar until the sugar is completely dissolved. Set it aside to cool. (Store the remaining simple syrup in the fridge in an airtight container for up to 1-2 weeks.)
In a small bowl, mix together the chamoy syrup and sugar. Pour tajin in a separate bowl. Dip the rim of your cups in the chamoy mixture then immediately into tajin to create your spiced rim. Set aside.
In a blender, add the mango, the cooled simple syrup, lime juice, and water. Blend together until almost smooth. Add the shot of mezcal or tequila and finish blending until smooth.
 Pour the margarita into your spiced rim glass.
Enjoy!