I think by now you all know I love breakfast and I love Mexican food. It's pretty obvious. Well, I was bored of my go-to breakfast the other day when I had the idea. Why not combine my two favorites and create the best breakfast ever. And so the breakfast quesadillas were born.
Although this recipe is for two, you can easily double or triple the recipe for a fun brunch or larger get-together. Or cut it in half for a single serving. You can make these ahead of time and can quickly finish in the cast iron right before ready to eat. They're also an easy meal prep option. Just reheatthem in the toaster oven or microwave.
One thing to note before you start making these breakfast quesadillas, make sure you have the roasted tomatillo salsa on hand, which you can find here. This salsa really makes the quesadillas and brings some lightness to an otherwise heavy dish.
Start by heating up the tortillas. I prefer corn tortillas, but you can also use a corn wheat combo or straight flour tortillas. The classic size of a corn tortilla is perfect though, so try to keep it in similar size. Heat up the tortillas in a cast iron, thirty seconds on each side, and set aside.
While the tortillas are heating start cooking your onions. Add the diced red onions to a small non-stick pan with a teaspoon of avocado oil. Stir occasionally and cook for three minutes before cracking in the two eggs. Stir constantly to break up the eggs and turn them into a scramble after three to five minutes of cooking. Set aside and get ready to assemble your quesadillas.
Start by placing a tortilla flat on the counter. Sprinkle a generous amount of pepper jack on half of the tortilla, followed by a fourth of the cooked eggs, then a spoonful of roasted tomatillo salsa, followed by more cheese. Fold the other half of the tortilla over to cover it. Repeat with the remaining tortillas. Cook the quesadillas, a few minutes on each side or until the cheese is melted. Sprinkle with cotija and cilantro and enjoy!
Breakfast Quesadillas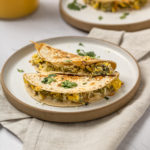 Print This
Ingredients
4 corn tortillas

1 tsp avocado oil

1/4 cup diced red onion

2 eggs

1 cup pepper jack cheese, grated

1/4 cup roasted tomatillo salsa, see below

cotija, to garnish

cilantro, to garnish
Instructions
Begin by heating up your corn tortillas in a cast iron over medium heat. Heat both sides for 30 seconds and set aside.
While your tortillas are heating up, begin cooking your onions. Add the avocado oil to a non-stick pan and then the diced onions. Cook over medium heat for three minutes, stirring occasionally. Crack in the two eggs and stir constantly, breaking apart the egg as it begins to cook. Cook your scrambled eggs for roughly 3-5 minutes. Set aside.
Time to assemble your quesadillas! Start with your corn tortilla. Then, on only half of the tortilla, add a layer of shredded pepper jack cheese, then a 1/4 of the egg mixture, a spoonful of the roasted tomatillo salsa, then a final layer of cheese. Fold the other half of the tortilla onto itself to cover the ingredients. Make the remaining quesadillas the same way using the rest of the ingredients. 
Two at a time, cook the quesadillas in the cast iron over medium. Cook for roughly 3 minutes, flip the quesadillas, then cook for an additional 3-5 minutes or until the cheese has melted. 
Serve 2 on each plate, garnish with some cilantro and cotija. 
Enjoy!