Does anyone ever not cook too much quinoa? Anytime I cook quinoa, I always make too much. I always intend to make a single serving yet I manage to make enough for days. One night when I was roasting chicken thighs and veggies for dinner, I dreaded the thought of reheating more leftover quinoa.  That's when it hit me, change it up. And so I made quinoa cakes.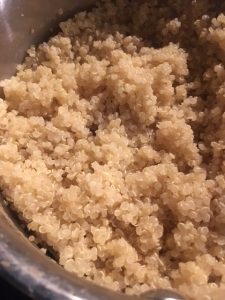 Ever since that first batch, quinoa cakes have been a favorite in our house. They're a great side dish to baked chicken and fish,. But can also make a delicious star of the plate because of the protein content of quinoa. Quinoa is a plant-based protein and considered a complete protein source because it contains all of the essential amino acids. It also has a low glycemic index to help keep blood sugar levels stable. This mini powerhouse is also high in fiber and gluten-free. To make this recipe completely gluten-free, use gluten-free bread crumbs.
I highly recommend making your own bread crumbs using old dried out bread! They don't contain all of the preservatives of other bread crumbs and can last months in the freezer!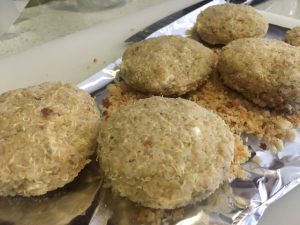 Quinoa cakes can be made in a large batch and then kept in the freezer for later. They usually don't last long for us though, eating them within a couple of days. It's usually a dinner side dish the first night with leftover cakes on my salad for lunch the next day.
These easy-to-make cakes have allowed me to get creative with every batch I make. One batch had cooked zucchini, shallots, and Italian herbs. Another bath had sauteed onions, cayenne, paprika, and cumin. Another set of cakes had small slivers of sun-dried tomatoes, basil, and extra goat cheese.
To ensure that all of your ingredients hold together in the cake, it is essential to cook any vegetables your plan on adding to your cakes. When I didn't cook the zucchini first, the cakes were more difficult to mold and didn't hold their shape while cooking. They'll still be delicious, just not as picture-perfect. Have fun with these cakes and explore different flavor profiles!
Quinoa Cakes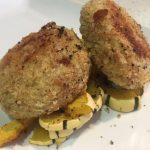 Print This
Ingredients
2 cups cooked quinoa

1 large egg

1/3 cup bread crumbs (plus 1/4 cup bread crumbs for coating cakes)

3 tbsp goat cheese

*spices and herbs

1 tbsp olive oil

*Go heavy on the spices and herbs since these are very simple flavors on their own. Add at least a total of 1 tbsp of spices and herbs.
Instructions
Crack egg into bowl with cooked quinoa and bread crumbs.
Mix ingredients together with a spatula.
Add desired spices and herbs.
Add goat cheese and gently mix together.
Take an ice cream scoop, creating 8 individual scoops.
Before shaping the individual scooped portions, sprinkle 1/4 cup of bread crumbs on clean counter. Take individual portions, shape into cakes, and place on bread crumbs.
Make sure cakes are covered in bread crumbs.
Heat the oil in a cast iron skillet. Once warm, place the quinoa cakes in the pan. Cook for 4 minutes or til slightly brown, before flipping over and allowing the other side to cook for 4 minutes.
Take cakes out of the cast iron and cook in toaster at 350 over for another 10 minutes.
Enjoy!