Anyone who knows me knows that I love a good coffee cake. It's my favorite breakfast treat! Cinnamon will always have a place in my heart. So when my second brother suggested I made a coffee cake donuts, I knew I had to make a dozen as fast as possible.
Something that I love about baked donuts is how quickly they can be made. Plus, they're without the addition of extra grease and the heaviness of fried donuts. Also, the crumbly coffee cake topping needs to bake within the oven.
The donuts themselves contain vanilla extract and cinnamon, common of a good classic coffee cake. Or any delicious bake. And although these donuts are made with oat milk, my favorite, you can use traditional cow milk. Whether you use oat milk or cow's milk, the donuts come out soft and fluffy.
The crumble topping is made of dark brown sugar, butter, flour, and cinnamon. The best way to mix these ingredients to make the topping is by hand. Using your hands, continue to mush the ingredients together until a crumble develops. You can also use a hand mixer to create a similar crumble consistency.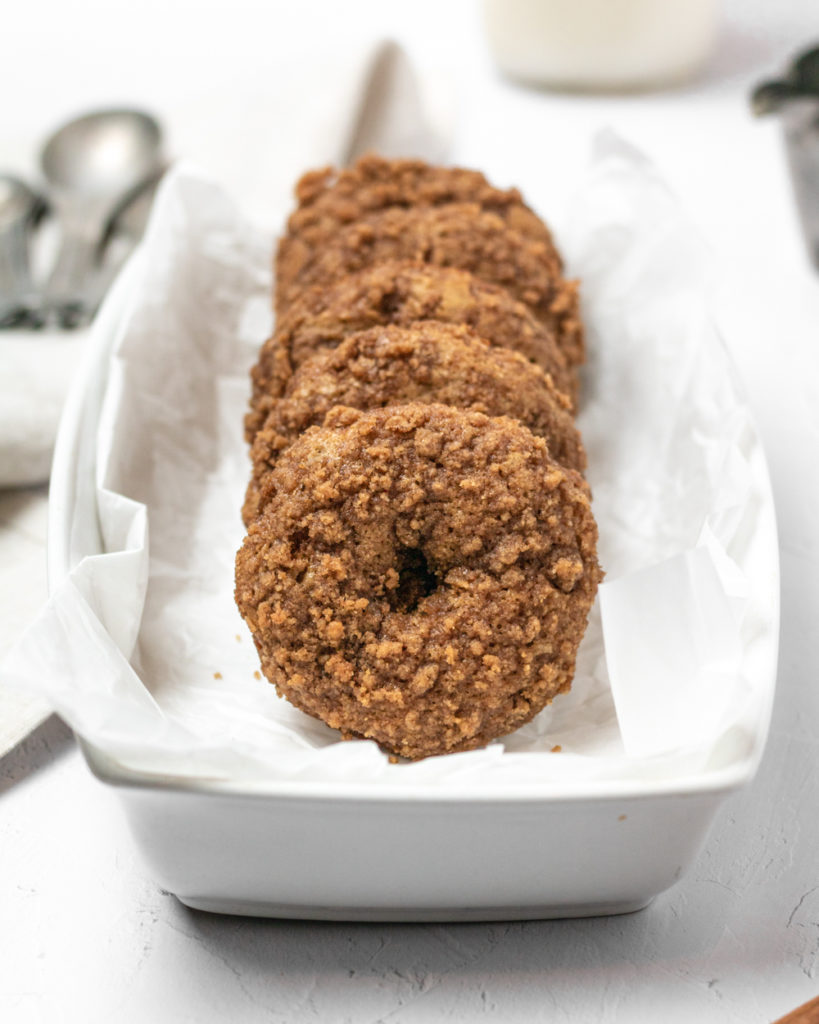 Coffee Cake Donuts
Print This
Ingredients
2 cups all-purpose flour

2 tsp cinnamon

2 tsp baking powder

1/2 tsp kosher salt

2 tbsp unsalted butter, softened

1/2 cup sugar

2 eggs, at room temperature

1/2 cup oat milk

6 tbsp unslated butter, softened - for the coffee cake crumble

1/2 cup all-purpose flour - for the coffee cake crumble

1/2 cup dark brown sugar - for the coffee cake crumble

2 1/2 tsp cinnamon - for the coffee cake crumble
Instructions
Preheat the oven to 350F degrees.
In a small bowl, add the flour, cinnamon, baking powder, and salt. Whisk the ingredients together and set aside.
In another bowl, add the butter and sugar. Using a hand mixer, whip the butter and sugar together until smooth. Add the eggs and combine using the hand mixer. Add the oat milk and do the same. Add the flour mixture into the wet mixture. At the slowest speed, use the hand mixer to just combine the two. Make sure not to over mix.
Grease your donut baking pan using a baking oil spray. Using a pastry bag or plastic bag with the corner cut, add the donut dough to the donut pan. The donuts will rise so make sure not to fill the dough all the way to the rim.
Using the bowl that the flour mixture was in, add the coffee cake crumble ingredients. Using a hand mixer or your hands, crumble the mixture together until a crumbled texture is created. 
Generously sprinkle the coffee cake crumble topping over each.
Add them to the oven and allow them to bake for 15 minutes or until a cake tester comes out clean.
Remove them from the pan and allow them to cool for 5 minutes.
Enjoy!