Grocery shopping is different for us these days. It's no longer an easy task. We can't simply run-up to the store when we forgot something from the list. Instead, we're ordering our groceries to be delivered, hoping that we get what's on our list, and then wiping everything down before it comes in the house. It feels like we're living in a whole different universe.
As we live in a different universe, creativity has to be at an all-time high while making dinner. More than ever before, I'm conscious of food waste. I'm making sure to use our perishables before they soil. With fresh produce being harder to purchase these days online, I can't waste it when we get it.
That's exactly why I made a large batch of kale basil pesto with dinner the other night. I had a large bunch of basil that was about to turn, leftover from a pasta dish we made a couple of days prior. I also had a bundle of red kale that I had forgotten about tucked in the back of the fridge that somehow managed to survive. With two lovely greens, mostly being basil, I instantly thought of pesto.
Traditional pesto has pine nuts, a great deal of parmesan cheese, and lots of oil. I don't have pine nuts in my pantry, so I substituted them using pumpkin seeds. Pumpkin seeds are drastically less fatty than pine nuts, a fifth less fat, resulting in less oil extraction in the food processor. I personally prefer the taste of pumpkin seeds over pine nuts, so for me this substitution is an absolute win. To compensate for the loss in oil, you can add more than I suggest. I used avocado oil because that's what I have, we ran out of it but could use olive oil instead.
While adding the oil to the kale basil pesto, I recommend adding a very small amount at a time. It can become over oiled quite quickly, eliminating the bright freshness of the basil. Small additions and tasting along the way is crucial. Adding a bit of salt also helps the basil shine.     
I spread the kale basil pesto over roasted chicken but could be paired with lemon chicken, spread over toast, mixed into warm pasta, or used as the base layer of a pizza. Pesto keeps in the fridge for roughly a week, but can also be frozen. For smaller servings of the pesto, freeze bits using an ice tray.
Kale Basil Pesto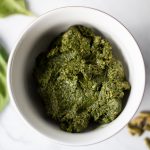 Print This
Ingredients
2 cups basil

1 cup kale (I used the red kale I had on hand, but could use any kale variety)

1/3 cup raw, unsalted pumpkin seeds

Juice of 1/2 a lemon

1/3 cup freshly grated parmesan cheese

3 cloves of garlic, peeled

1/3-1/2 cup avocado oil, depending on preference (can also substitute water if avoiding oil)

salt to taste
Instructions
Add basil, kale, pumpkin seeds, lemon, parmesan cheese, and garlic to a food processor.
Turn the food processor on and mix the ingredients together until a thick paste forms.
Slowly add avocado oil, and continue to blend the mixture. Stop the food processor every so often, scrape the sides, and taste the paste to ensure you don't add too much oil. You can also add water if you want the texture to be smoother without the addition of more oil. (I personally prefer my pesto on the thick side.)
Sprinkling a small amount at first, add salt until desired saltiness.
Store in the fridge for up to a week. You can freeze pesto as well.