This summer heatwave has my body in a funk lately. I want to eat nothing all day and then I want to eat everything all at once. I've been craving cold indulgent treats but anything cold to cool down my core will do. To help with the heat and still find ways to get some good nutrition in, I've been turning to spirulina chia seed pudding parfaits as my breakfast and sometimes midday snack.
Spirulina is blue-green algae that grow in water and typically used in powder form. It's packed with nutrients, including B vitamins, protein, and iron. And although heavy in nutrients, it's low in calories. It has a stunning blue-green color that looks great when added to food. It's easy to add in smoothies, which is how spirulina is usually used. However, you can add it to practically anything, including soups, sauces, baked goods, or chia seed pudding.
I love chia pudding. I think the texture is great and is a powerhouse of nutrients from the chia seeds and healthy fat from the coconut milk. Since it's so thick, I tend to create parfaits with my chia pudding. My spirulina chia seed pudding is the perfect addition to a yogurt parfait. Alternate plain yogurt and the chia pudding, at least two layers worth, then sprinkle with granola. My favorite toppings are my rising sun granola and freshly sliced mangos. The sweetness of the mangos pairs so well, allowing me to add less honey to the spirulina chia seed pudding itself.
If you're not pairing it with sweet summer fruit and prefer your chia pudding to be a little sweeter, I recommend adding another teaspoon or two of honey. Spirulina is more earthy in flavor, so some may prefer the extra sweetness to balance it out. I've been using Local Hive honey the last few months and it's my favorite store-bought honey. My chia seed pudding never lasts that long, but can last up to a week in the fridge!
Spirulina Chia Seed Pudding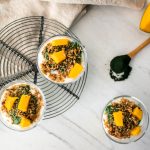 Print This
Ingredients
1 cup coconut milk

1/3 cup chia seeds

1 tbsp spirulina powder

1 tsp good honey, more optional to make it sweeter
Instructions
In a bowl, mix coconut milk, chia seeds, spirulina powder, and good honey (like Local Hive) until fully combined.
Set the bowl in the fridge and let it sit at least 2 hours, but overnight is best.